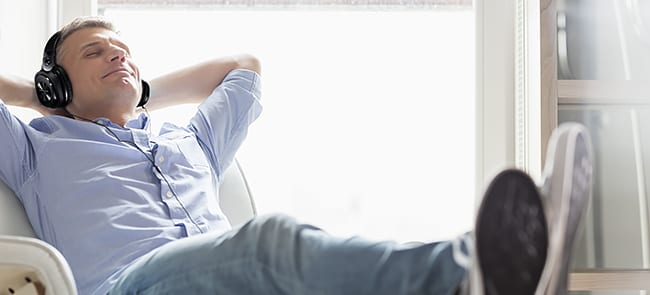 Whether you are looking to block out sound while you are on an aircraft or want to create a quiet space where you can enjoy your music without distractions, our range of noise-cancelling headphones are up to the challenge. We offer a set to suit every budget and technological need and the one thing they all have in common is an ability to make crowded flights feel like a private jet, turn your noisy living room into a tranquil oasis, and transform your open-plan workspace into a corner office.
Panasonic RP-HC200: a popular and accessible choice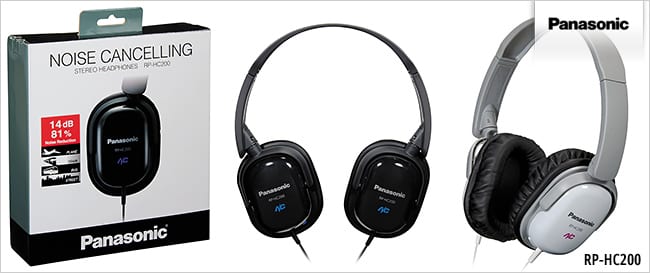 Featuring an over-ear design and soft head pad for greater comfort, the RP-HC200 is one of our most popular choices in this range. This model reduces outside noise by 81% (14dB at 200Hz) and can be used as in a regular headphone capacity even when the noise cancelling effect is turned off. A fold-flat design makes it easy to pack in carry-on luggage and a plug adaptor for aircraft use is included. With the RP-HC200, you an enjoy 60 hours of long, noise cancelling operation with just one AAA Alkaline battery.
RP-HC200 Webpage
RP-HC800E: exceptional design, latest technology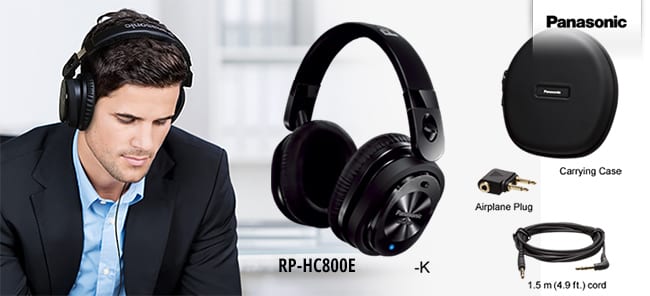 Our latest model RP-HC800E boasts a high performance Active Noise Cancelling System with improved Feed-back Noise Cancelling Technology for a wide-range noise cancellation effect. Expertly crafted with a sophisticated design that fuses durable plastic with metal finishes, the RP-HC800 headphones feature a wide padded headband and cushioned ear cups for a comfortable fit even after hours of wear. The detachable cord features a microphone and controller for the iPhone/iPad/iPod allowing  you to quickly switch between music and phone calls with the touch of a button. One AAA Alkaline battery provides up to 40 hours of noise cancellation use and, unlike other noise cancelling headphone models, the Panasonic RP-HC800 headphones can still be used for music playback even if the batteries have run out of juice.
RP-HC800E Webpage
RP-HC56E-K: earbud-style, packed with premium features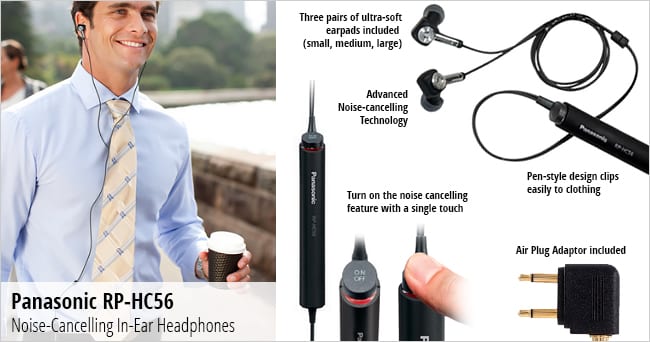 Adding to our successful line of noise cancelling headphones already available, the Panasonic RP-HC56 earbud-style earphones reduce outside noise by 92% (22dB) at 200Hz, including passive noise isolation, by utilising an insulating effect. The compact, pen-type design can clip to your clothing and it houses a noise cancelling on-off toggle, volume control and room for one AAA alkaline battery which provides up to 40 hours of operation time. A cord holder attachment provides tangle-free cord storage and the Panasonic RP-HC56 comes with an air plug adaptor and convenient carrying pouch.
*Available at selected stores