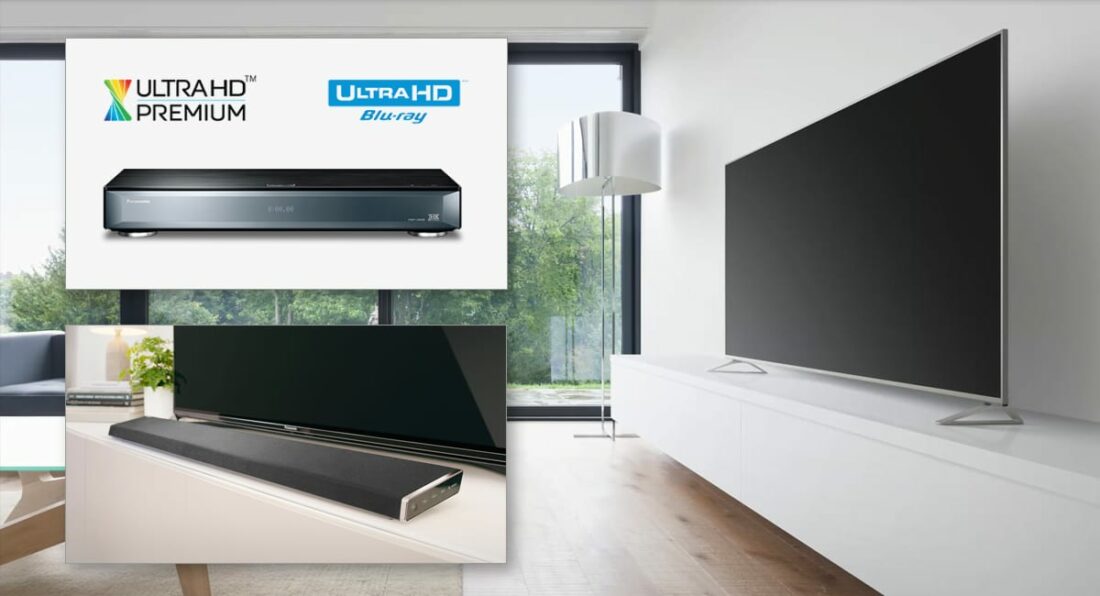 Do you want to set up a home cinema so impressive that you'll never leave the house to go to the movies again? Then it's time to invest in the best picture and sound technology you can afford, with smart networking features that let you immerse yourself in all your favourite content.
For the ultimate in picture quality, you can't go past the VIERA DX900 Ultra HD Premium LED LCD TV with 4K Ultra HD and High Dynamic Range (HDR) picture technology. Whether you are watching native 4K content (and you'll find a growing list on Netflix) or standard broadcast format, you'll find the technology that goes into a 4K panel produces vivid images so realistic you'll feel like you could jump right into the picture.
Make sure you complement your TV tech with our DMP-UB900 4K Ultra HD Blu-ray Disc™ player so that you can open up a whole new world of entertainment content. Of course, you'll also want to bring cinema-style audio to your media room. The best way to add a richer bass sound and add extra 'oomph' to your TV speakers is to install our ALL Connected Audio ALL70T soundbar and subwoofer to really bring your home cinema to life.
Television: VIERA DX900 Ultra HD Premium LED LCD TV
WATCH: Panasonic product guru introduces VIERA DX900.
The flagship VIERA DX900 is Panasonic's first 'Ultra HD Premium' 4K TV, even earning certification from the renowned THX quality assurance group – a recognition of picture quality and accuracy that few TVs achieve. The DX900 is designed to be true to the filmmaker's vision, offering the latest innovations in 4K Ultra HD (UHD) and High Dynamic Range (HDR) technologies to create images of such startling clarity, detail, nuance and colour accuracy they achieve a level of reality that's never been possible before now on television screens.
The DX900 also features a customisable home screen powered by Firefox to give you easy access to your favourite TV channels and a wealth of online content including Netflix and YouTube. Features like TV Anytime stream VIERA content to smartphones and tablets from another room or another country. Plus there's the Twin HD Tuner that opens up viewing options like picture-in-picture, recording one program while watching another, or watching one program while streaming another to a smartphone or tablet, when utilising TV Anytime.
READ MORE: Learn how to talk about 4K like a pro.
READ MORE: Get an insider's view of High Dynamic Range (HDR)
Explore the VIERA DX900 4K Ultra HD Premium LED LCD TV
Blu-ray: Panasonic DMP-UB900 4K Ultra HD Blu-ray Disc™ Player
WATCH: Learn more about the UB900's premium features.
The state-of-the-art DMP-UB900 4K Ultra HD Blu-ray Disc™ player reproduces high quality 4K images, exactly as Hollywood filmmakers intended them to look, while high quality audio signal processing achieves premium, wide-ranging sound. Certified as Ultra HD Premium, the UB900 features new imaging technologies, including 4K high-precision chroma processing and HDR (High Dynamic Range) that have been fostered and refined by the Panasonic Hollywood Labs to deliver more natural images with lifelike depth and vivid colours. Smart networking features even give you access to a range of internet apps, such as Netflix and YouTube, with 4K content supported.
READ MORE: Meet the must-have UB900 4K Ultra HD Blu-ray player
Explore the Panasonic UB900 4K Ultra HD Blu-ray Disc™ player
Surround sound: ALL Connected Audio ALL70T Soundbar
WATCH: ALL70T soundbar with premium features.
The first-class ALL Connected Audio SC-ALL70T soundbar has been developed to bring both films and music to life, using three integrated speaker drivers and separate wireless subwoofer to deliver 3.1-channel surround sound. The three speakers are newly designed and shaped to reduce distortion and make higher frequencies crisp and clear. The central speaker focuses on dialogue to make sure you can hear every last word of either song or film. A new digital amp keeps sound stable at high volume, while included subwoofer uses a down firing driver for more powerful and rounded bass, giving you those ground-shuddering film moments or party-starting dance music magic. The ALL70 provides wireless networking, allowing it to connect to other speakers from the Panasonic ALL Connected Audio system family, so you can share their favourite songs with multiple networked speakers around the house. Plus, the soundbar can even be paired with two of our SC-ALL2 wireless speakers to create the ultimate 5.1ch surround sound.
READ MORE: The first-class soundbar surround sound system
Explore the ALL Connected Audio ALL70T soundbar
Explore the ALL Connected Audio ALL2 wireless speaker