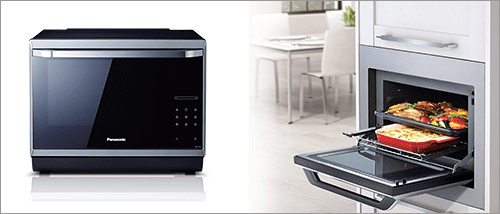 If you think a microwave oven is only good for heating up last night's left-overs, then you haven't been paying close enough attention to Panasonic's super-versatile combination microwaves.
We have just added a brand new model to the stellar line-up that is sure to revolutionise Aussie kitchens; the NN-CF874B Convection Microwave. It offers a two-level oven that features convection baking and roasting; grilling and toasting; and convenient microwave features including defrosting (and of course, reheating).
Nicolas Cauzac, Product Marketing Manager – Microwaves and Cordless Phones, said: "The new microwave allows you to choose from a variety of modes, so you can create a range of meals from grilling fish to baking your favourite lamb roast or lasagne."
With all these cooking features at your fingertips, you probably think it can't get better but just imagine coming home from work and not having to think about cooking at all! For those days, instead of calling the local takeaway, you can let the intelligent 'Genius' sensor do the hard work. It has 11 programs to choose from – simply select the type of food you want to cook and the microwave will automatically make adjustments to elements such as time and power for a perfectly cooked meal.
This multipurpose masterpiece is supplied with enamel, glass and wire oven trays and is available now from leading consumer electronics retailers priced at RRP $989.
READ MORE
Download the NN-CF874B-Brochure.
RECIPES
For convection microwave ovens
The perfect combination for a fun dinner: BBQ Pork Spare Ribs
Prawn & Salmon Filo Parcels: Whip up this tasty treat in just twenty minutes.
For conventional microwaves
Today's microwave recipe – a Brazilian-Style Flan – will make you want to samba.
Foodhack your way to a decadent brownie.
Lamingtons, the pride of Aussie cakes.
Cheat your way to the perfect Christmas pudding.
Impress with a mouth-watering pear and chocolate pudding.