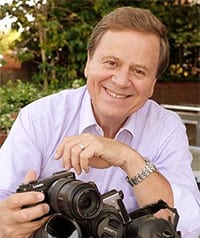 Ray Martin has been a journalist for 45 years, mostly in television and radio, starting his career as an ABC cadet. He's been seriously taking photographs- some would say 'obsessively' – almost as long. As well as five Gold Logies for his television work on news shows such as 'A Current Affair', and 'Sixty Minutes', Martin was awarded an Order of Australia (A.M) in the 2010 Australia Day honours list for his work in journalism and for numerous charities.
Ray Martin has long been a fan of LUMIX cameras and here at Panasonic, and we never get tired of seeing the incredible pictures he produces with our products. Examples of his work using LUMIX can be found in Ray Martin's World (released last year) and in the upcoming Chasing The Light project with his good friend, Ken Duncan.
We are also lucky enough to be able to share with you some stunning shots taken by Ray over the course of several projects, using our LUMIX FZ200 (a camera he absolutely loves and recommends with great enthusiasm).
---
CLICK ON IMAGES BELOW TO VIEW THE FULL IMAGE GALLERY
Captions by Ray Martin