In 2020 staying connected seems to be more important than ever. With unprecedented restrictions on the freedoms we've all previously taken for granted, everyone from friends and celebrities to grandparents and businesses began looking for new ways to replace real life social interaction with a similar, yet different virtual experience.
This was certainly the objective for Sea Life Sydney Aquarium. For a business that depends predominately on people leaving their homes to come and laugh with the seals, marvel at the sharks, learn about marine conversation, and dine in their cafeteria, they knew the aquarium was headed for uncertain times and unchartered waters, pun intended.
This is where the Panasonic and the Lumix imaging team stepped in to help the Sea Life staff bring the experience of visiting the aquarium right into people's homes. Leveraging the image quality and direct live-stream capability of the latest Panasonic HC-X2000 camcorder, Sydney Aquarium staff were now equipped to now broadcast live to their audience from basically anywhere on the property.
The X2000 was the perfect camera for what Sea Life wanted to achieve for 4 main reasons: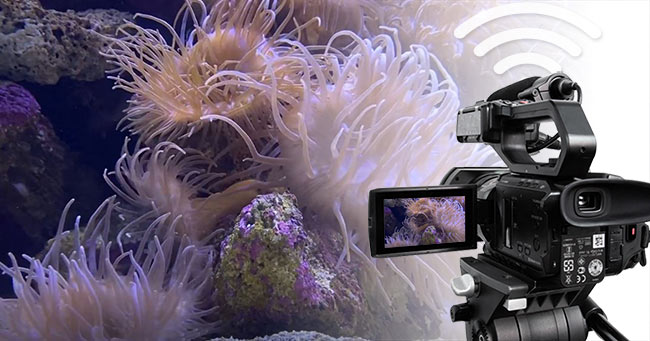 1. Its RTSP/RTP/RTMP/RTMPS compatibility gave them the flexibility to broadcast a Full HD quality stream direct from the camera to popular platforms such as Facebook, YouTube and Twitch without the need for additional equipment such as a laptop equipped with a capture card. This meant their setup could remain portable and staff had basically free reign of where they could film within the aquarium. In addition, the ability to live stream and simultaneously save a 4:2:2 10-bit 200Mbps file to the camera internally, meant they had excellent quality footage for their archives, with the additional benefit of being able to create more content using the saved footage in post-production.
2. Equipped with a 24x optical zoom lens, the X2000 offers a versatile wide-angle 25mm to 600mm telephoto focal range. This is ideal for filming in cramped enclosures and tight corridors, while still having the ability to punch-in on small subjects such as young fish or coral without a loss in image quality. The built-in optical image stabiliser further improves its imaging capabilities, allowing them to confidently shoot handheld and eliminating the restrictive nature of shooting on a fixed tripod.
3. The detachable handle unit that is included with the X2000 adds two XLR audio input terminals and a microphone mount to the setup, ensuring Sea Life were equipped to use a dedicated external microphone to deliver clear and natural sound. This was an important consideration due to the fact that live streaming obviously meant the team could not rely on post-production to fix any audio issues. The handle also features a built-in LED light, adding the versatility to confidently shoot in darker environments without the need to set up complicated lighting.
4. The maximum 4K60 4:2:2 10-Bit output of the X2000 provides the Sydney Aquarium team with amazing potential to create more polished or targeted video content for their YouTube and other marketing channels. So much more than just a camera that can live stream, the X2000 is first and foremost a feature packed director's camcorder, ideal for producing everything from documentaries and short films to weddings, vlogging and corporate event coverage.
"Lighting and poor sound quality are two big issues we have when filming in the aquarium. Having a professional set up like Panasonic's X2000 has meant we are able to produce better quality live streams then just using our mobile phones." – Emma Malik, Supervisor – Animal Training & Guest Interaction, Sea Life Sydney Aquarium
With only a few sessions of remote training from the Lumix team, Sea Life were able to successfully launch their first Facebook live broadcast via the Full HD quality of the HC-X2000. In the peak of the NSW school holidays, the live feed was well received from parents and kids alike.
"Our Facebook followers have increased by 35% in the 5 weeks that we've been live. One week saw our followers' spike +30,000 which is just incredible & shows the hunger for feel-good, fun and educational content right now. Engagement is also at an all-time high, with the penguin streams in particular proving very popular!"
– Richard Dilly, General Manager, Sea Life Sydney Aquarium.
The overwhelmingly positive response to this initiative has prompted Sea Life to investigate where else this technology can be utilised in other areas of the business to further brand recognition and improve engagement and loyalty with their fans and customers.
To see the latest schedule and upcoming topics of their next live session, head over to the SEA LIFE Sydney Virtual Aquarium.
Otherwise, check out the entire range of Panasonic Lumix cameras and camcorders to see how you can leverage live streaming and video content to help you grow your business or personal brand.