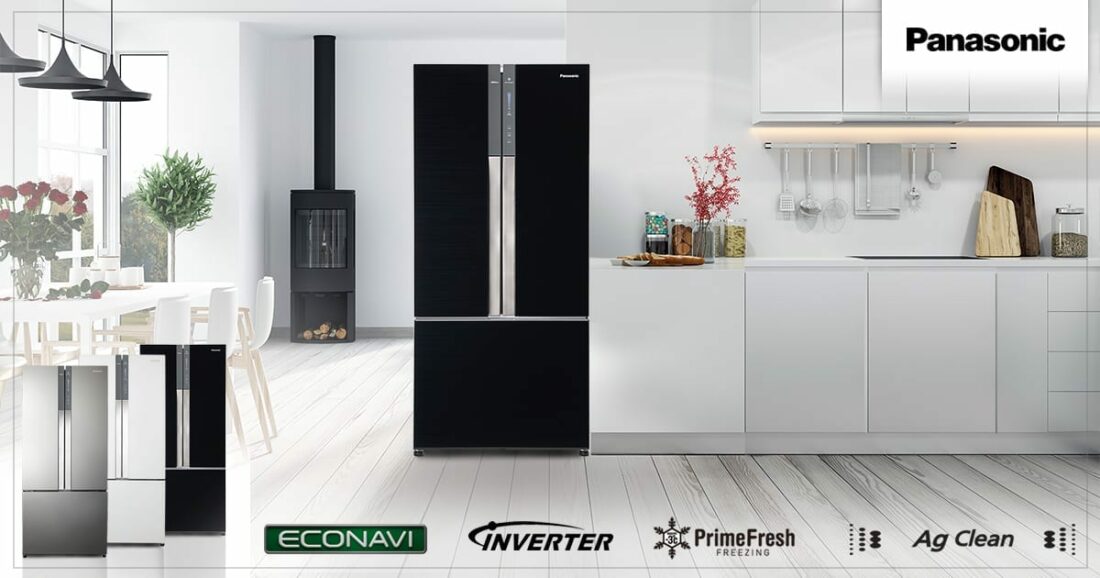 Today, the fridge is the heart of the kitchen. Modern, open plan design, plus a focus on healthy living, means your appliances have to look good and store good food for you. The latest French Door Refrigerators from Panasonic have been developed with this 'attractive and functional' ethos in mind.
From the outside, you'll love the seamless design with full-flat glass panels and a choice of black, silver or white finishes. What's more, at a convenient 547 litres, the new range offer a capacious fridge that can still fit into your standard kitchen space. Open the doors and you'll find a host of features dedicated to keeping food fresh without wastage, along with smart energy-saving technology.
Modern, functional design to complement any kitchen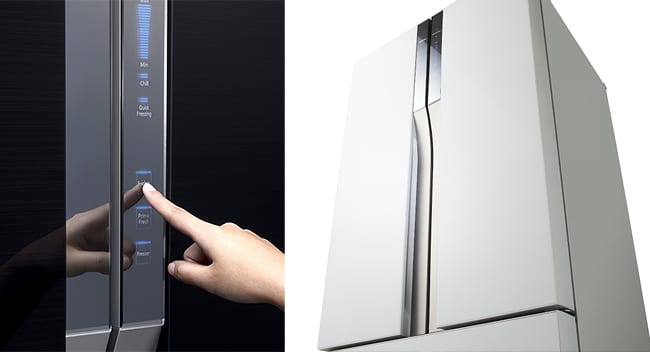 The stunning French door design features a full-flat glass panel to create a seamless finish, enhanced by stylishly recessed curved handles. These slim-line twin doors are perfect when kitchen space is tight, and as they can be opened individually, they also prevent unnecessary cold air escaping which contributes to energy savings. The electrostatic touch control panel has a striking mirror finish and also gives you complete control over settings and temperature levels. Clever design features within the fridge and freezer maximise storage, minimise odours and give you easy access to every item – even when both compartments are fully stocked!
Smart technologies to keep food fresher for longer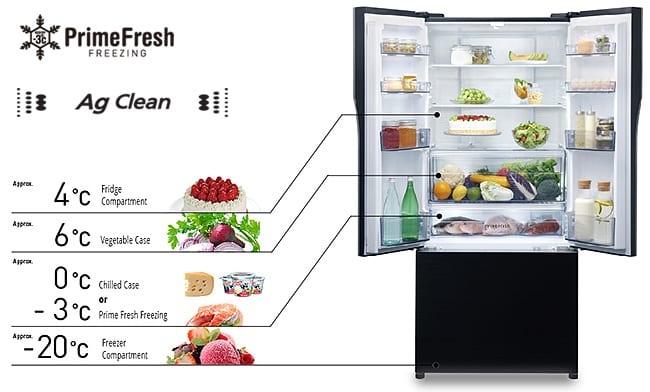 Keeping food fresh and making it last longer is important for both taste and reducing waste. The new fridge range boasts a convertible chilled case that can be set at -3˚C 'Prime Fresh' to lightly freeze food, extending life and keeping flavour and making it easy to prepare; or at 0˚C to prevent highly-perishable items from spoiling prematurely. You'll also appreciate the range's handy centralised 'Fresh Safe' vegetable case that ensures produce is stored in optimum conditions thanks to an airtight design. This keeps humidity levels high, up to 90 per cent, and prevents produce from drying out. As an added bonus, the powerful Ag Clean antibacterial and deodorising filter cleans circulated air, minimising mould and bacteria that could cause food to spoil more quickly, and eliminating unpleasant odours.
ECONAVI technology delivers effortless energy savings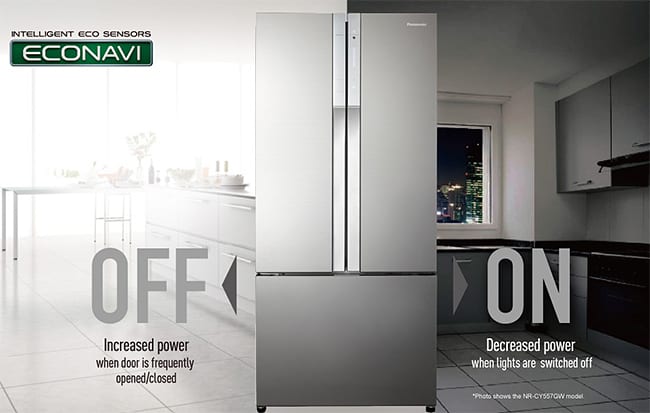 With Panasonic's ECONAVI sensors, living an eco-friendly life has never been easier. This revolutionary technology allows your fridge to monitor the level of lighting and temperature in the room, when and how often the fridge doors are opened, and the fridge's internal temperature. It then analyses and responds to this information to maintain ideal cooling and avoid wasting energy.