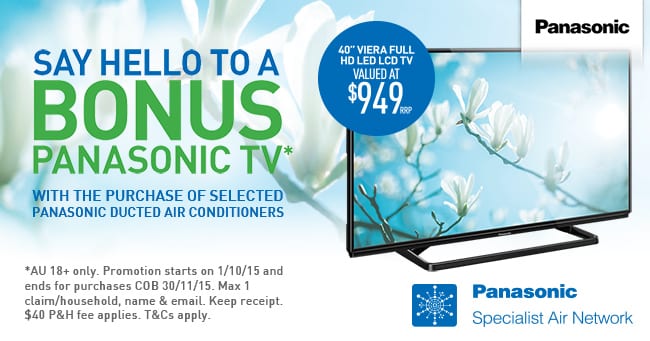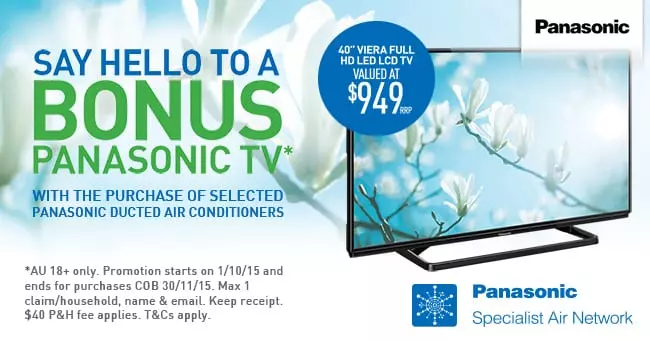 When you purchase a selected Panasonic ducted air conditioning system* before 30 November 2015, we'll make your home even more comfortable with a bonus 40" Full HD VIERA TV valued at $949 RRP*.
*Terms and conditions apply
Visit promotion website
Full HD LED LCD TV
Contrast-rich pictures
Easy to use features
Multimedia playback
The TV bonus is mighty nice but far from the only reason you'll be happy you chose Panasonic for your ducted air conditioning system.
Panasonic ducted air will save on your power bill
Our ducted systems are incredibly energy efficient. Panasonic Inverter technology allows the unit to get your home to a comfortable temperature, and then only requires a very small amount of power to maintain this temperature. What's more, Panasonic ducted systems can be zoned by your installer to target only the areas of your home that you are using to be cooled, eliminating any wastage of power and netting you great savings on your electricity bill.
Panasonic ducted air will add value to your home
A Panasonic ducted system will add significant value to your home come sale time, as ducted air conditioning is one of the most sought-after features by home buyers. Whilst the initial outlay for installing ducted may be considered high, the reality is that this purchase adds to the allure of your home when it is time to sell.
Panasonic ducted air will work with your climate
When it comes to temperature range, Australia is a pretty extreme country and not all air conditioners are up to that challenge, but Panasonic systems boast an outstanding operating range. Cooling operation is possible when it is a scorching 46 degrees C outside, which is perfect for Australia's hot summer days and the heating operation, is designed to operate as far down as a freezing -20 degrees C outside, so the coldest parts of Australia are also covered. Our ducted systems even feature a unique technology that reduces the unwanted 'cold drafts' that you might have experienced from other ducted systems when used for heating during winter.
Panasonic ducted air offers premium optional features
Deluxe Wired Remote Control (CZ-RTC3): The elegant, flat design features large touch keys in a simple layout and a backlit LED display for improved visibility. An energy consumption display and log function makes it easy to detect and resolve energy wastage, while multiple control settings cater to a wide range of air conditioning needs.
ECONAVI Sensor (CZ-CENSC1): Providing outstanding energy-saving performance, our large-capacity air conditioners can be connected to ECONAVI to detect and reduce energy wastage. Smart ECONAVI can sense the presence or absence of people and the level of activity in each area of a room. When unnecessary heating or cooling is detected, indoor units are individually controlled to match room conditions for optimal energy-saving operation.
Request a Quote
To learn more about Panasonic Air Conditioners, or request a quote visit aircon.panasonic.com.au.
The promotion: Bonus TV with the purchase of selected ducted air conditioners.