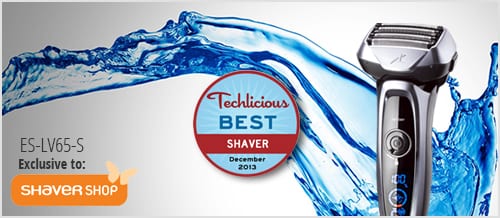 "After reviewing the options and hands-on testing, the Panasonic Arc5 ES-LV65-S* wins our top pick for the Best Shaver on the Market with its superior shave and a history of glowing reviews."
Techlicious – Best Shaver 2013 & 5 stars out of 5
With a 5-blade ultra-thin vibrating foil cutting system and 30-degree nano polished blades, the ES-LV65-S cuts through even the toughest beards for a clean shaving experience. An Intelligent Shaver Sensor determines differences in beard density at different locations reducing the burden on your skin.
What's more, blades are slightly arched lengthwise to ensure the closest contact possible – even on soft areas such as under your chin where it is easy to miss whiskers. The best part is that this shaver doesn't sacrifice smooth skin for the close cut. The 14,000cmp motor drive system eliminates the tugging and pulling that can occur with slower shavers and also maintains peak power right up to the end of the charge.
With all of these amazing features, is it any wonder that Techlicious confirmed what the rest of the world seems to know? The ES-LV65-S really is the best shaver on the market.
*The full model number is ES-LV65-S841, but this product is also referred to as ES-LV65 and ES-LV65-S. This model is exclusive to Shaver Shop.