The LUMIX GF7 is such a stylish and feature-rich package that it has been amassing an impressive collection of reviews from the toughest photography critics over the past few months. We are proud to announce that the GF7 can now add a Gold Award to its trophy cabinet, courtesy of Australian Photography + Digital Magazine (download the full article, published in the June 2015 issue of the magazine (PDF 539 KB).
With its 180-degree touch screen monitor, the new DMC-GF7 is ideal for shooting selfies but Anthony McKee, the reviewer from Australian Photography + Digital Magazine, also found that this feature is great for street photography.
"Rotating the LCD up 90 degrees brings the screen level with the top deck, and if you cup the camera in your hands you could easily treat it as if you were working with a waist-level viewfinder camera, similar to those used in 1950s and 1960s by the likes of Diane Arbus and the recently discovered Vivian Maier. Because you're looking down on the camera, rather than holding the camera out in front of your face, you can work rather discreetly without drawing too much attention to yourself."
Anthony was also very impressed with the camera's fuss-free layout and easy-to-use design.
"The most appealing feature of this camera is its compact form and minimal control layout. Unlike many cameras, this has a modest layout and yet it's still capable of good control options via the camera's 3in (75mm) touch screen. The 'selfie' option is going to appeal to younger users, but the rest of us will just enjoy it as a handy LCD screen."
Exposure, image quality and value for money all contributed toward the Gold Award as well, with the magazine calling the GF7 and an 'ideal sidekick'.
"It's small enough to carry everywhere, and with an amazing range of lenses to choose from it is a versatile street and travel camera."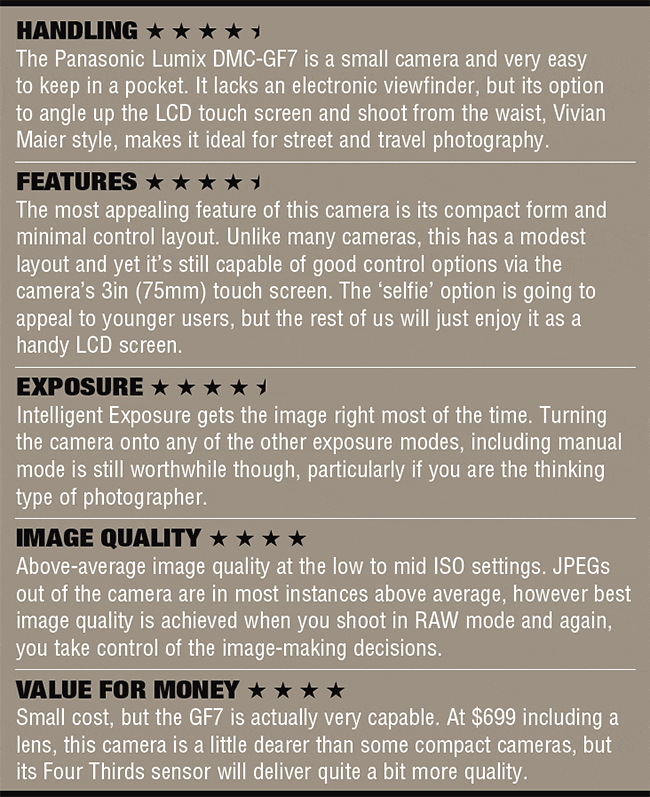 Read more
Critics are loving our stylish GF7 – the latest LUMIX G Series addition.
Other articles about out new LUMIX GF7.
LUMIX GF7 Single Lens Kit.
LUMIX GF7 Twin Lens Kit.