We are excited to announce that our Lumix GX7 has been honored with the prestigious CES Innovations Design and Engineering Awards Honoree for 2014 in the Digital Imaging category.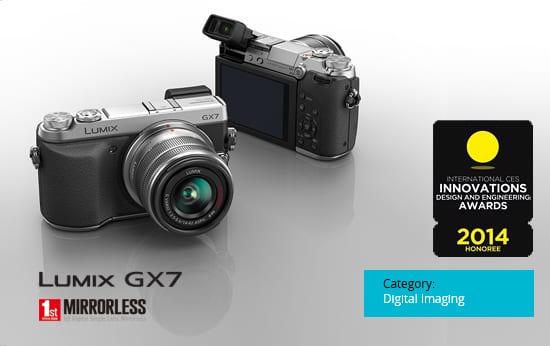 The Innovations entries are judged based on Engineering qualities, based on technical specs and materials used, Aesthetic and design qualities, using photos provided, The product's intended use/function and user value, Why the product deserves the Innovations award, including specifics regarding its unique/novel features and features that consumers would find attractive, How the design and innovation of this product directly compare to other products in the market place.
Some of the previous GX7 awards
Essential Award & 5 Stars out of 5 – Photography Blog
"The Panasonic Lumix DMC-GX7 is the best Panasonic compact system camera to date, and one of the best interchangeable lens cameras that we've ever reviewed. Offering a winning combination of outstanding image quality, excellent performance, deep feature-set and great design, the new GX7 deserves to be a run-away success."
Editor's Choice award & 9.8 out of 10 – Cameras Reviewed
"With its first blatantly rangefinder-styled M43 camera, Panasonic has taken everything that we've liked about its previous models and done it up in a premium package. With a new 16-megapixel sensor, in-body image stabilization (a first for Panasonic), and a built-in electronic viewfinder, it sure seems like Panasonic wasn't satisfied serving up more warmed-over features. They've brought their A-game."
Gold Award – What Digital Camera
"The GX7 is a very polished and well-made camera that not only delivers excellent results, but is also a pleasure to use at the same time. Panasonic has made a bold statement saying that the GX7 is their best Lumix camera to date, and we have to say we fully agree."
Editor's Choice & 5 Stars – ePHOTOzine
"As the specifications, features, and technology available in mirrorless or compact system cameras increases, with continuing improvements in image quality and performance, it's becoming increasingly difficult to justify the purchase of a large and often bulky Digital SLR. The Panasonic Lumix GX7 introduces a truly unique experience thanks to the tilting electronic viewfinder, and with a new sensor the camera delivers excellent image quality, with particularly impressive noise performance beating the previous class leader at high ISO settings."
Read more
Lumix nabs top spots at the Camera Magazine Imaging Awards.
The DMC-GX7 is outclassing the competition.
Critics love the new Lumix DMC-GX7.
The Lumix DMC-GX7 is turning heads.
Let your Lumix imagination run wild with Stop Motion and Time Lapse technology.
Lumix DMC-GX7 page.