With the LUMIX Life Focus on Australia project launching April 1st LUMIX photographers from all around Australia are busy taking photos capturing what they see as the heart and soul of Australia.
Amongst them is the celebrated photographer and LUMIX Life pro shooter Nick Rains who, with the help of his GH1, was on hand to capture all the action of the Surf Lifesaving Championship at Kurrawa Beach.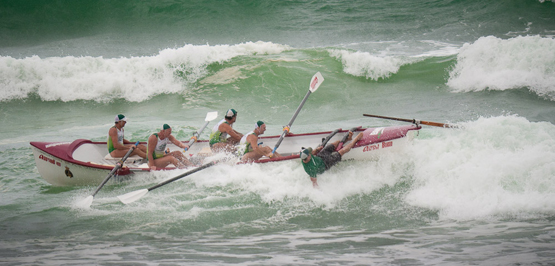 Nick Rains has been a professional photographer for over 26 years and has been photographing Australia for the past 20 of those.
In that time he has driven over 500,000 kms in search of fine landscape images which are published around the world as calendars, books, and limited edition prints. His work was recognised in 2001 by Australian Geographic when he won Australian Geographic Photographer of the Year and has been a regular contributor to the journal ever since.
Now taking part in LUMIX Life as one of it's pro shooters, the following are Nick's impressions of the iconically Australian Lifesaving event along with how the LUMIX GH1 handled the challenge.
It was a grey day with threatening clouds, certainly not your typical 'Beautiful one day, perfect the next' sort of day, but that did not daunt the competitors and the choppy waves made the surf boat competition that much more exciting. More than one competitor was spilled out into the surf, some oars and sweeps were broken and in one case the whole boat up-ended throwing the five crew members in all directions.
I was testing out the Panasonic Lumix GH1 system with the 45-200mm and the 7-14mm zooms so see how if performed in the situations where a pro dSLR might normally have been used i.e. sport photography.
I'm pleased to report that the GH1 performed admirably. The 45-200mm has excellent 'pull' being the equivalent of a 400mm lens on a full frame dSLR. The AF is very fast and accurate – I had it set on follow focus for the surf boat shots and it missed very few. The motordrive could be a bit faster, you need to carefully time your shots, but the good news is that the shutter release button is very responsive with little delay.
The 7-14mm lens is astonishing. It's wider than almost anything short of a fisheye, 14mm equivalent, and the perspective you can get is quite extreme. Better yet, it's very sharp, right to the edges with little discernable light fall-off. It's a delightful little lens, in fact it's so tiny it's hard to take it seriously. Nevertheless, it's a great tool and I enjoyed having that super-wide 'look' available to me.
To read more about Nick's experience visit his website www.nickrains.com