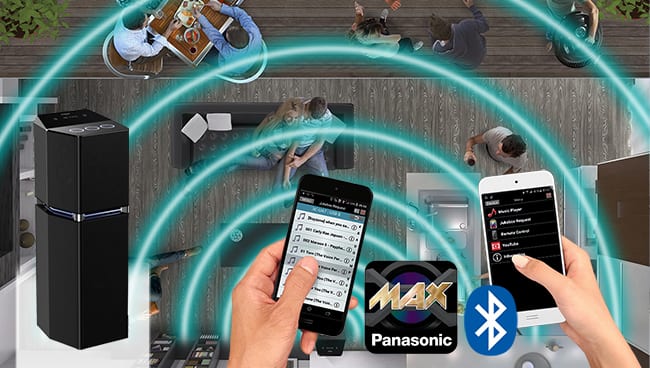 For next next-level house house parties with a fun twist, host a DJ comp, karaoke night or epic TV screening. All you need is the Panasonic SC-UA7 Urban Audio multidirectional wireless speaker! This 2.1 channel audio system combines its unique hexagonal design with phenomenal power and performance, making it perfect for impressive house parties. The UA7 even features Bluetooth, USB ports, 4GB memory, karaoke functions and optical input for TV connectivity.
Stage a karaoke house party
Bring out the closet stage performers in your friends by hosting a karaoke party at home! Even your shy mates will be lured to the microphone when they realise how much more fun it is to than the high-pressure stakes of singing in a public bar or club. And with the UA7, you have so much more than a powerful music system; this clever speaker is tailor made for raucous singalongs, with full karaoke function, two mic input jacks and jukebox mode. Even better, the UA7 features TV connectivity and Bluetooth, so all you have to do is download a karaoke app and you can even play the lyrics on the big-screen to add really professional touch to your party.
Hold a DJ comp house party
Turn your home into a mini nightclub with a DJ spin-off and your party will be one your friends will never forget. In addition to amazing power and performance, the UA7's Bluetooth functionality makes it easy it easy to share tunes directly from a mobile device, and the Panasonic Max Juke app lets you compile playlists and perform basic operations such as volume, play, pause and equaliser settings. You'll also find two USB ports for music sharing and playback, and 4GB of internal memory to store up to 1,000 songs. All you have to do is get your friends to create their own DJ-style playlists and roster them on in back-to-back competition that will have your party rocking all night long.
Throw a TV-event house party
There are so many theme options for epic TV parties, from New Year's Eve fireworks viewing, to cult show premieres, glamorous Academy Awards nights and even mini DVD concerts of your kid's favourite pop stars. Team the UA7 with your big-screen TV and you'll see this speaker is so much more than a vehicle for great music. An optical input ensures simple and high-quality TV connectivity which is enhanced by features such as the Local Preset Equaliser to maximise audio quality, and the newly-added Voice Expansive Mode to give the sensation of sound spreading naturally from the TV screen.
READ MORE: Introducing Panasonic's UA7 multidirectional smart speaker
UA7 Wireless Speaker
Panasonic Hi-Fi Range