We finally had to bid goodbye to what seemed like an endless Aussie summer and face the cold reality of winter's chill. It's not all bad news, though! Winter brings so many delightful moments of cosiness into our life. Crackling fires, soft woollen jumpers, and snuggling up with a hot drink under a warm blanket are just a few.
A positively delightful aspect of the colder months is the opportunity to break out those comfort foods that just don't make sense during summer – and delicious warm soups definitely top the list.
With a Panasonic microwave, you can even cut down the time you would spend in the kitchen making these yummy bowls of goodness, leaving you more time to spend in front of the fire!
We've put together a list of our three favourite winter soups to warm your belly, along with easy steps for your microwave prep:
---
Potato and Leek Soup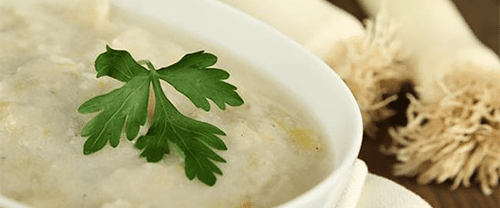 ---
Ingredients
350g leeks sliced (prepared weight)
350g peeled and cubed potatoes
25g butter
300ml chicken stock
300ml whole milk
30mls crème fraiche
Salt and pepper
Method
Place the leeks, potatoes and butter in a large bowl. Cover and cook on HIGH MICROWAVE for 5mins.
Gradually add the stock and seasoning.
Re-cover and cook on HIGH MICROWAVE for 15mins or until the vegetables are tender. Stirring halfway.
Allow to cool slightly.
Place in a liquidiser and blend until smooth.
Stir in the crème fraiche and season to taste. Heat on MEDIUM MICROWAVE for 3 mins or until piping hot.
---
Pea and Pancetta Soup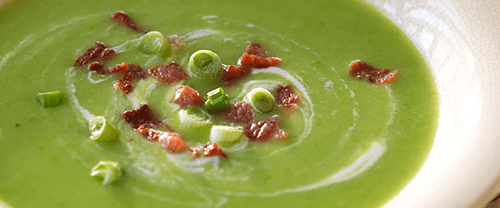 Ingredients
30g butter
1 small leek, halved lengthways, rinsed and sliced
1 small potato, peeled and finely sliced
1-1.2 ltrs chicken or vegetable stock
550g fresh or frozen peas
50g pea shoots (optional)
4 tbsp double cream, plus extra to serve
85g cooked pancetta, cut into strips
Salt and freshly ground pepper
Method
Put the butter, leek and potato in a large microwavable bowl and cook on MEDIUM MICROWAVE for 5 minutes.
Add the stock and cook on HIGH MICROWAVE for 5 mins, then MEDIUM MICROWAVE for 10 mins or until the potato is soft.
Add the peas and pea shoots if using, and cook on MEDIUM MICROWAVE for 5 mins.
Transfer the mixture to a blender, season with salt and pepper and blend to the desired texture, adding the cream at the end (strain through a sieve if you want it really smooth).
Reheat the soup on HIGH MICROWAVE for 3 mins Add a swirl of cream and a sprig of pea shoots if using.
---
Tomato and Basil Soup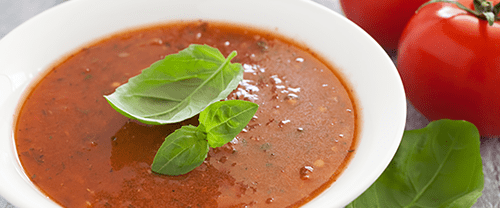 Ingredients
1tbsp oil
1 onion chopped
1 stick of celery chopped
1 carrot finely chopped
1tsp sweet or smoked paprika
2tbsp tomato purée
1.25kg tomatoes quartered with central core removed
1tbsp sugar
1 litre vegetable stock
1 tbsp green pesto
Handful of fresh basil leaves
Method
Put the oil, onion, celery, carrot and paprika in a large bowl and cook on HIGH MICROWAVE for 5mins.
Add the tomato purée, tomatoes, sugar and hot stock to the bowl and cook on MEDIUMMICROWAVE for 15mins or until the carrots are soft.
Leave to cool.
Place in liquidiser and purée until smooth.
Season to taste.
Cover and cook on MEDIUM MICROWAVE for 3 mins or until piping hot.
Serve topped with a swirl of pesto, and garnish with basil leaves.
Check out the full range of Panasonic microwave ovens.