Between 11th and 17th September, representatives from the Panasonic household battery division in Japan visited several schools in Melbourne to conduct educational workshops where children were taught how to make their own batteries and LED Neck Lights. The project encompassed 16 events in 5 schools and reached over 1000 students and teachers.
The program is designed with a fresh, friendly space for students to discover environmental issues through an interesting educational experience. This grass roots activity has been successfully conducted in Japan for more than a decade and even across Thailand, Iran, China and Brazil.
The workshops in Melbourne created an opportunity for students in Japanese classes to exchange ideas about science and the "green living style" as well as forming a more experiential level of knowledge about Japan.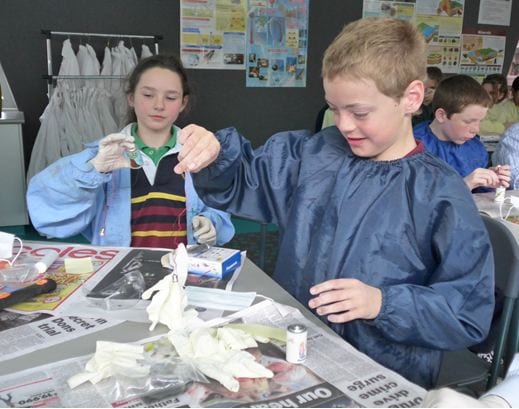 Pictured are students from the first battery-making class session at St. Paul's Anglican Grammar School in Traralgon VIC, with participants from years 5 and 6. They worked with pre-package kits that contained the ingredients to make, personalise and test their very own batteries and LED Neck Lights.
This marvellous project also includes a battery exchange program that encouraged the students to bring in 'dead' batteries from home, dispose of them thoughtfully and take home fresh Panasonic batteries as a replacement.