LUMIX G Series mirrorless cameras offer you a chance to expand the creative boundaries of your photography by swapping lenses to suit your shooting situation. For beginners, the wide variety of lenses available can be a little intimidating, so we've put together a quick guide to help you choose the right lens for each occasion.
A little bit of everything: STANDARD ZOOM LENS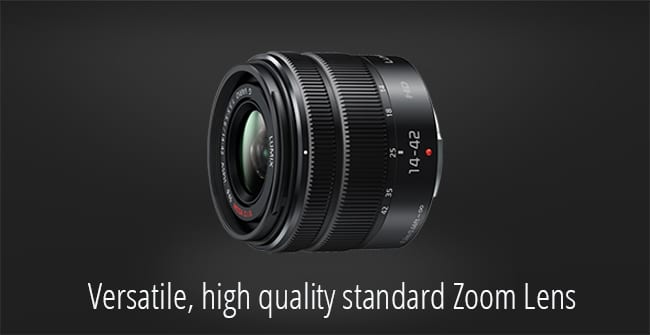 A standard zoom lens will quickly become the staple item in your lens kit. You will use it for any kind of shot, from landscapes and still-life to snapshots of your children and pets – to capture beautifully rendered images that would not be possible from a compact camera. A standard zoom allows you to vary the angle of view and focal distance, choose different perspectives and experiment with varying degrees of soft focusing as your skills evolve, allowing you to create interesting and expressive images.
LUMIX G Lens: H-FS014042E
Micro Four Thirds 14-42mm Standard Zoom Lens / 28-84mm (35mm camera equiv.)
Dramatic close-ups, sports and wildlife: TELEPHOTO ZOOM LENS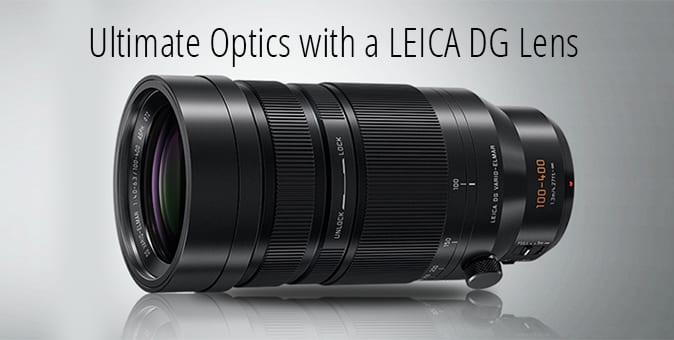 When you're out wildlife watching, or catching the action at the local footy game, you need a lens that will get you right up close without disturbing the scene. A telephoto zoom like this LEICA DG 100-400mm lens will give you an amazing 200-800mm equivalent zoom for impressive close-ups in a lightweight but highly durable lens.
LUMIX G Lens: H-RS100400E
LEICA DG VARIO-ELMAR 100-400mm Telephoto Zoom Lens / 200-800mm (35mm camera equiv.)
Intricate details and close-up camera work: MACRO LENS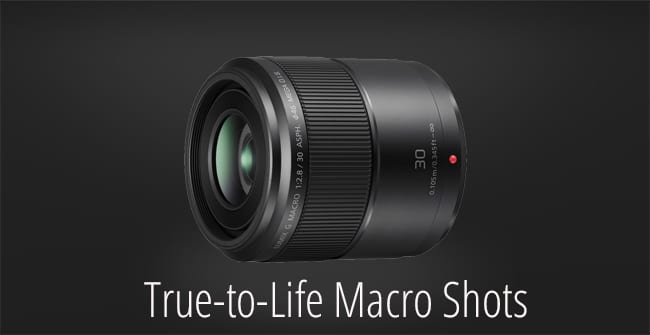 Bring tiny worlds into view with a macro lens. Imagine that you want a larger than life picture of the centre of a flower, or you would like to capture every intricate detail of a tiny insect; that's where a good quality macro lens comes in. They are specifically designed for close-up camera work and elaborate focusing to ensure brilliant resolution, even at the highest levels of magnification. Many photographers find that macro lenses are not limited to intense focusing. Their excellent optics makes them useful for general photography purposes, giving you the freedom to create a wide variety of compositions, from portraits to telephoto shots.
LUMIX G Lens H-HS030E
Micro Four Thirds 30mm Macro Lens / 60mm (35mm camera equiv.)
Artistic composition shots: SINGLE FOCAL LENGTH LENS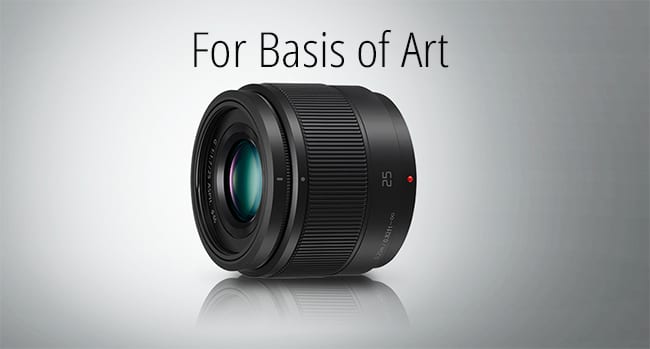 Once you become more confident with your ability to compose shots with your camera, you will understand why single focal lenses give an all-round superb optical performance. A single or 'fixed' focal length lens (also known as a 'prime' lens) is pretty much the opposite of a zoom lens. It might sound less versatile than a zoom which has a variable focal length; however, for photographers who are looking to take amazing pictures, single focal lenses are an invaluable part of the camera kit. One reason for this is that when you have to be aware of depth-of-field (instead of letting the zoom do all the work), you become more expert at what makes a good composition. It means great pictures are something you think about before you even click! Because their optics are simpler, prime lenses usually have a larger maximum aperture (smaller f-number) than zoom lenses. This allows photography in lower light and a shallower depth of field.
LUMIX G Lens H-H025E
Micro Four Thirds 25mm Single Focal Length Lens / 50mm (35mm camera equiv.)
Stylised scenes with a creative edge: FISHEYE LENS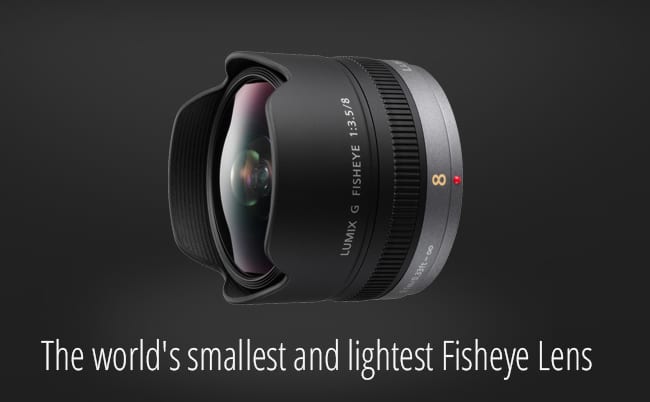 With a fisheye lens on your camera, familiar everyday scenes become surreal and imaginative. Even with the same subject, changing the lens angle creates a curving effect that gives the scene an entirely different look. Whether you're shooting photos or movies, the fisheye lens lets you create truly distinctive, eye-catching images.
Lumix G Lens: H-F008E
Micro Four Thirds 8mm Fisheye Lens / 16mm (35mm camera equiv.)
Sweeping landscapes and group photos: WIDE ZOOM LENS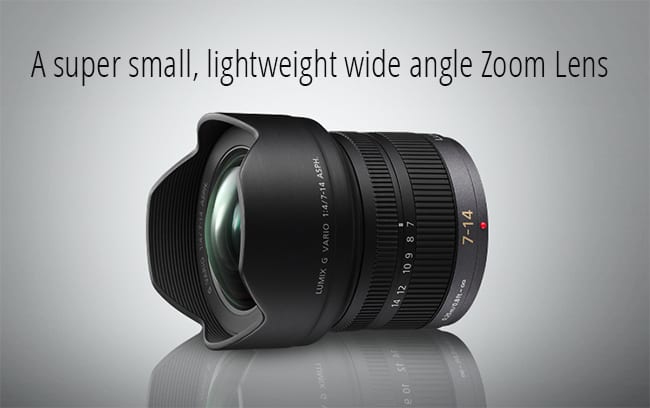 A wide zoom lens is an extraordinarily versatile tool for your camera. Not only does it let you capture the vastness and majesty of sweeping landscapes with true-to-life perspective, a wide lens is invaluable for shooting situations where you need to get a lot in the picture but have limited space around you. Every G Series wide zoom lens is equipped with aspherical lenses for correcting a variety of aberrations and extra-low dispersion (ED) lenses to eliminate chromatic aberration from magnification, rendering sharp, crisp images across the entire zoom range.
LUMIX G Lens: H-F007014E
Micro Four Thirds 7-14mm Wide Zoom Lens / 14-28mm (35mm camera equiv.)
Learn more about LUMIX G Cameras and Lenses