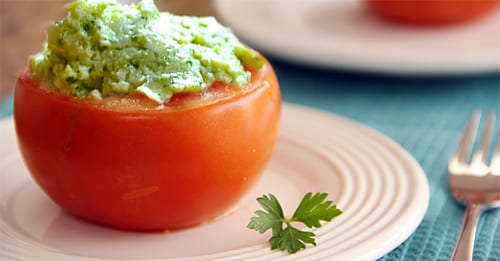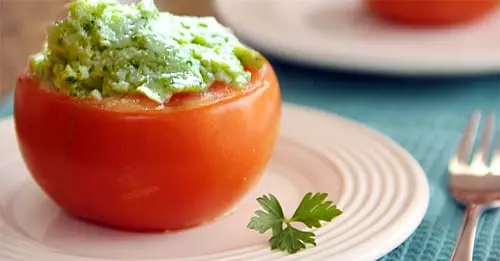 To please the little ones, you can also use cherry tomatoes, but make sure you adjust the microwave time. For the last touch, you can also add some cheese on the top to grill and fresh chives to garnish.
MICROWAVE STUFFED TOMATOES
Ingredients
6 tomatoes
1/2 onion
1 table spoons butter
200gr shredded ham
1/2 cup parsley and chives chopped together
1/2 cup crushed nuts
1 teaspoon of nutmeg
Salt and ground white pepper to taste
120gr cream cheese
Preparation
Mix onion and butter in a bowl and microwave high for 2 min. Remove from microwave and add the ham, cream cheese, parsley and chives mix, walnuts, salt and pepper. Set aside. Cut out the tops of the tomatoes, scoop out the centres and dry it well. Pierce tomatoes with fork several times. Season it with salt and pepper inside and out. Spoon the stuffing mixture into the tomatoes and microwave high for 5 min. Serve hot.
MORE RECIPES
For convection microwave ovens
The perfect combination for a fun dinner: BBQ Pork Spare Ribs.
Prawn & Salmon Filo Parcels: Whip up this tasty treat in just twenty minutes.
For conventional microwaves
Today's microwave recipe – a Brazilian-Style Flan – will make you want to samba.
Foodhack your way to a decadent brownie.
Lamingtons, the pride of Aussie cakes.
Cheat your way to the perfect Christmas pudding.
Impress with a mouth-watering pear and chocolate pudding.