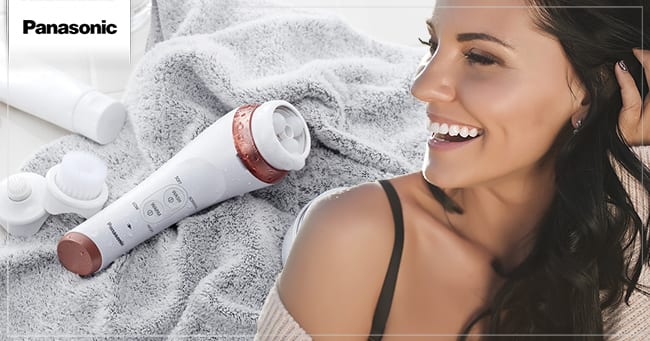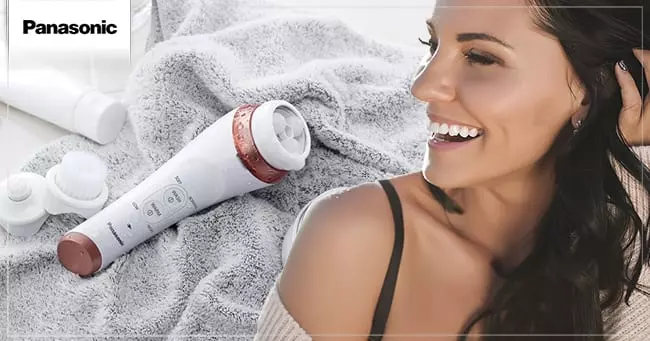 This luxe summer skincare routine will keep you glowing through the holiday season. Inspired by the daily, highly-precise skincare rituals of Japanese women, we show you how to put a high-tech twist on the nightly multi-step skincare regimen beloved by beauty bloggers across the globe.
You're probably already thinking 'who has time for multi-step skincare when festivals, pool parties, and BBQs are calling?' Trust us; this is exactly when your skin needs you the most! Panasonic's new salon-style beauty tools make it easy to maintain radiant summer skin and they're designed to work in perfect harmony with your favourite cleansing, toning, and moisturising products.
Step 1: Oil Cleanser | 3 Min
Warm Makeup Removal Plate (EH-SC65)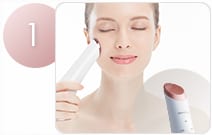 Double cleansing is the bedrock starting point for any multi-step skincare philosophy. Begin by applying an oil cleansing product, then select Warm Mode and smooth the warm plate along the surface of your face to softly loosen and remove makeup.
Step 2: Foam Cleanser | 1 Min
Luxurious Soft Facial Brush (EH-SC65)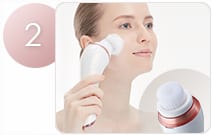 Pour in a small amount of
foaming cleanser
into the soft facial brush attachment and select your Wash Mode to thoroughly clean skin and purify pores using the soothing and luxurious micro-foam that flows smoothly through the facial brush's soft and tapered rotating bristles.
Step 3: Hydrating Toner | 1 Min
Ionic Plate & Cotton Pad (EH-ST63)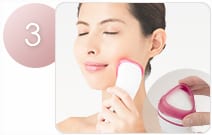 Attach a cotton pad soaked with hydrating toner to the triangle head and select Cleanse Mode to unclog your pores and extract impurities using the ionic wave generated by alternately switching positive and negative currents. Prepping your skin with hydrating toner allows brightening and moisturising products to be absorbed more effectively.
Step 4: Vitamin C Serum | 1 Min
Ionic Plate (EH-ST63)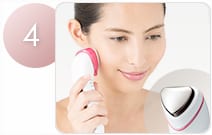 Multi-step skincare gurus know the serum step is where the magic happens! Apply Vitamin C serum directly to your skin, select Brighten Mode and glide the triangle head over the contours of your face to infuse the active ingredients deep within the epidermis to leave your skin radiantly bright.
Step 5: Sheet Mask | 3 Min
Ionic Plate (EH-ST63)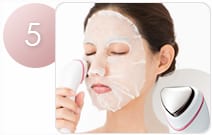 Sure, sheet mask give off serious horror movie villain vibes but these little babies are hydration heroes. Place the sheet mask on your face, select Moisturise Mode and glide the triangle head over the mask's surface to deliver the active moisturising ingredients deeper into your skin.
Step 6: Eye Cream| 1 Min
Ionic Plate (EH-ST63)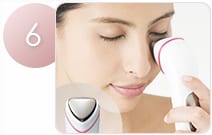 Show the delicate skin under your eyes some love with an elastin-rich eye cream. Apply the cream to your eye area, select Warm Rhythm Mode and gently press the triangle head in a lifting motion around your eyes.
Step 7: Moisturiser| 3 Min
Ionic Plate (EH-ST63)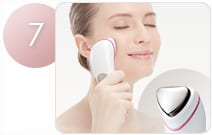 Finish off your multi-step regiment with a good quality moisturising oil, gel or cream tailored to your skin type. Apply the product to your skin, select Warm Rhythm Mode and indulge in a stimulating facial massage by gliding the triangle head in a lifting motion to promote supple, hydrated, revitalised skin.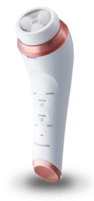 Micro-Foam Facial Cleanser
EH-SC65
• Cleanse Skin & Purify Pores
• Automatic Micro-Foam Action
• Luxurious Soft Facial Brush
• Pore-Targeting Silicone Brush
• Gentle Heat Makeup Removal
• Relaxing Massage Roller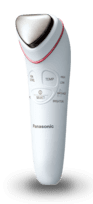 Ionic Facial Cleanser & Toner
EH-ST63
• Cleanse, Tone & Soften Skin
• Ionic Enhanced Moisturising
• Ionic Impurity Extraction
• Vitamin C Brightening Infusion
• Warm Gentle Massage Mode
• Ergonomic Triangle Head