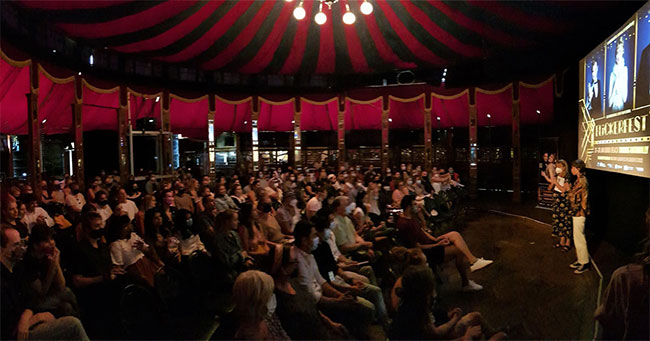 From its humble beginnings as a local festival held at Balmain high school, Flickerfest has gone from strength-to-strength to become an Academy® accredited and BAFTA recognised event, attracting talent from all over the world. The 31st anniversary of the event was no different, attracting over 3200 entries from Australia and across the globe.
Despite the uncertainty associated with organising an event in recent times, the 2022 Flickerfest Short Film Festival was able to deliver on a 10-day programme screening over 100 short films and championing the work of some exciting and innovative, producers, directors and filmmakers.
"The uniting force among the shorts to be screening at the 2022 Flickerfest Festival is their ability to push the conventions of film and narrative to deliver surprising, exciting and ground -breaking results across, fiction, animation, documentary and every genre in between." – Bronwyn Kidd, Flickerfest Festival Director
LUMIX was honoured to sponsor the Award for Best Australian Short Film for another year, donating the grand prize of a Panasonic LUMIX S1R Full Frame Camera + 105mm Lens to Director Eddy Bell and Producers Nonny Klaile, Steven Rees and Luke Mulquiney for their film 'Giants'.
The film was shot intermittently over a period of 18 months and examines the changing landscape of a farm impacted by the worst drought in Australia's history.
'Giants' was also the only film to win more than one award at Flickerfest 2022, with Composer Jackson Mico Milas taking home the award for Best Original Music in an Australian Short Film.
Flickerfest now begins its 2022 national tour, showcasing the best the short film genre has to offer at 42 venues across Australia. Head to the Flickerfest national tour page to find a date and location near you!