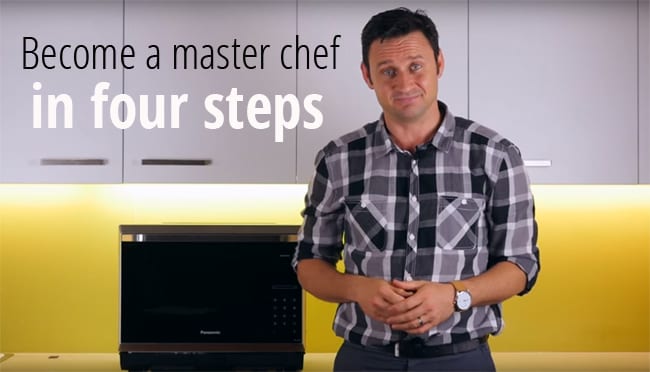 Panasonic microwaves can re-heat your leftovers and defrost that steak you just took out of the freezer… but they can also do so much more! Wayne, the Panasonic product guru, is here to show you how Sensor Cooking, Inverter technology, a Flatbed design and Crispy Grilling all give Panasonic microwaves the gourmet edge.
1. Sensor Cooking with Panasonic Microwaves
Are you stuck in the trap of only using your microwave to reheat and defrost because anything else seems too difficult? Learn how to get more out of your Panasonic microwave, using the sensor cooking features. This in-built technology takes the guesswork out of cooking, so you can whip up gourmet food in a flash (without slaving over a hot stove).
2. Inverter Technology and Panasonic Microwaves
Learn more about the fantastic benefits of Inverter microwave technology. Conventional microwaves only give you one power setting, turning the heat on and off throughout the cooking process. Inverter microwaves are a whole different ballgame, delivering graduated power continuously for more evenly cooked results.
3. Flatbed Design and Panasonic Microwaves
Can your microwave cook a 2kg chicken in a conventional roasting tray? Check out the advantages our Flatbed microwave ovens have over conventional turntable models. As well as extra space and flexibility, flatbed microwaves are even easy to clean!
4. Crispy Grilling with Panasonic Microwaves
We've very excited about the Crispy Grill feature built into our latest convection microwaves. Upper elements grill from the top, while the microwave-heated grill tray cooks from the bottom. As it does, fat is drained away by the grooves, so that your food is crispy on the outside and juicy on the inside. Ingenious!
READ MORE:
The Most Versatile Cook in the Kitchen
Steam Combi Microwave Oven
All Panasonic Microwave Ovens