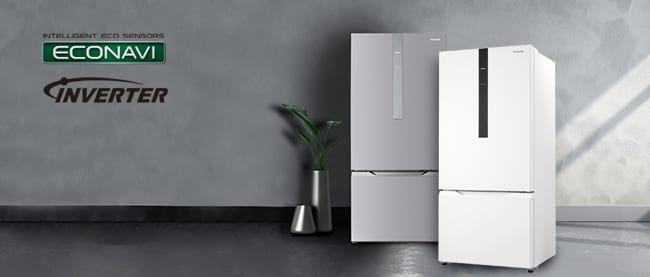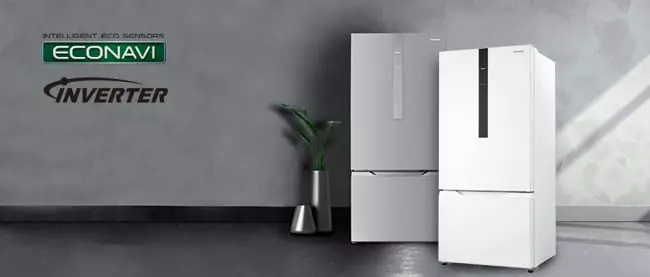 The Panasonic refrigerator line-up has expanded to include two stylish new large-capacity models. Joining our BY Series, the new 551L fridges feature technology designed to keep food in optimum condition; and use Panasonic's energy-saving ECONAVI and Inverter technologies to save energy and money while delivering advanced cooling performance.
Stylish yet user-friendly design
Your kitchen will be a more stylish place, thanks to the chic fully-flat design of these premium refrigerators, available in both stainless colour (NR-BY55BPSAU) and white metal (NR-BY55BVWAU) finishes. As practical as they are beautiful, the BY Series feature a spacious fridge compartment and convenient bottom drawer freezer to ensure easy access and storage for all your family's fresh food needs.
Keep your food fresher for longer

Our new BY series promote fresh food storage by incorporating technology to maintain ideal temperatures and humidity, along with airflow innovations to gently chill food while minimising dehydration. These clever fridges even feature a filter to neutralise the airborne bacteria that promotes food spoilage.
Premium energy-saving technology

Exclusive to Panasonic, ECONAVI sensors and Inverter technology built into BY Series refrigerators monitors your patterns and then adapts the energy usage around your lifestyle, giving you more power when you need it, minimal power when you don't.
Panasonic BY Series Fridges at a Glance
551L capacity
Stainless colour or traditional white finish
Fresh Safe vegetable case preserves nutrients
0°C chilled case quickly cools without freezing
Energy-saving ECONAVI and Inverter technologies
Intelligent control panel
Easy access bottom mount freezer
Ag Clean antibacterial and deodorising technology
*Stainless colour models only
BY Series White
BY Series Stainless Colour
READ MORE: Say "cheers" to bonus wine with your new Panasonic fridge.
Explore the full range of Panasonic refrigerators.