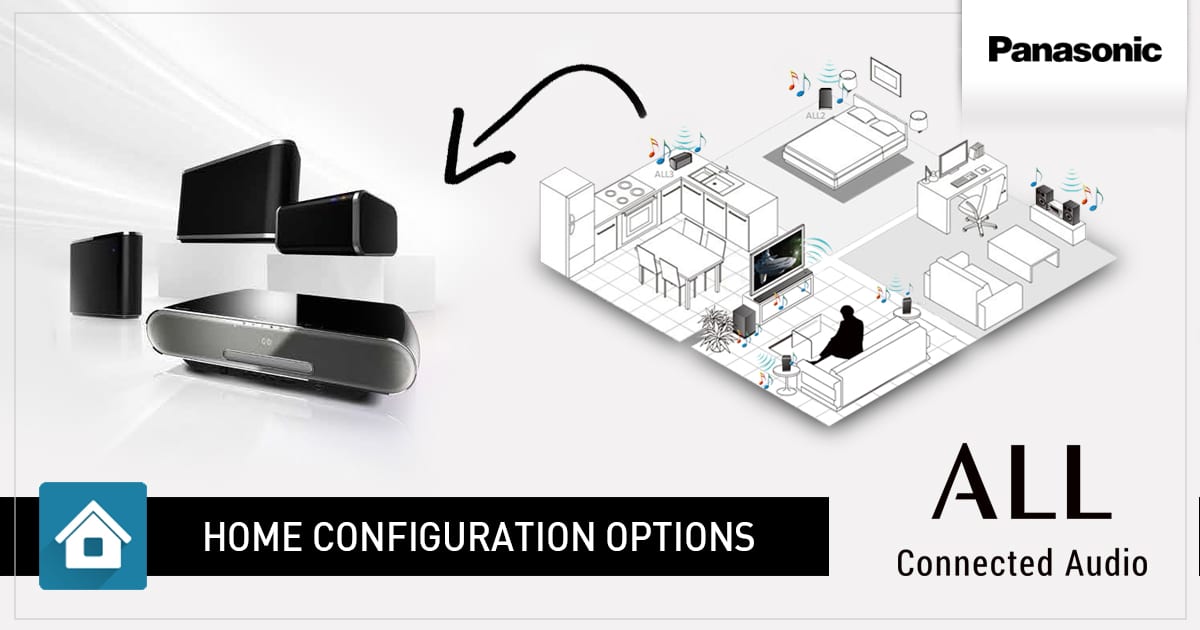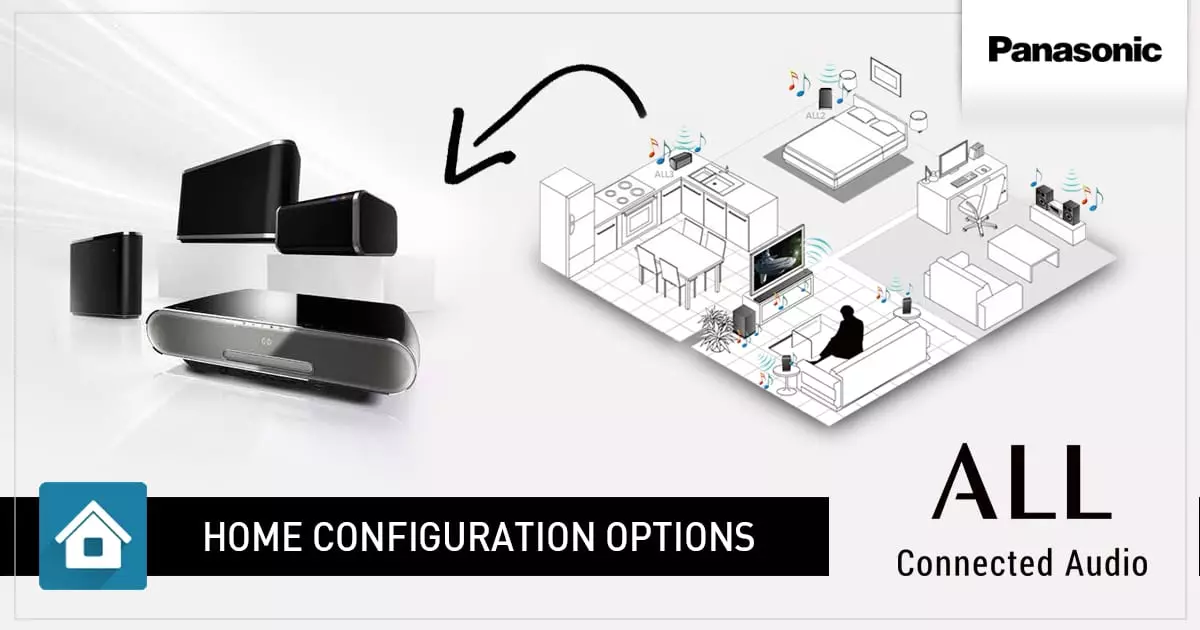 The Panasonic ALL Connected Audio range is a series of wireless networked speakers that make it easy to stream your music to multiple rooms from an array of different sources. Each model can stand alone as a sensational audio unit, or connect with other products in the lineup to create a dynamic sound system. No matter which speaker or combination you choose, you'll love being able to stream or even re-stream to connected speakers from a range of audio sources including your smartphone, online music services like, Spotify, ALLPlay Radio powered by TuneIn, DAB+ radio, Bluetooth, TV broadcast and even your CD collection.
Let's take a look at just some of the possible configurations you can enjoy with ALL Connected Audio wireless speakers.
Fill your house with music in every room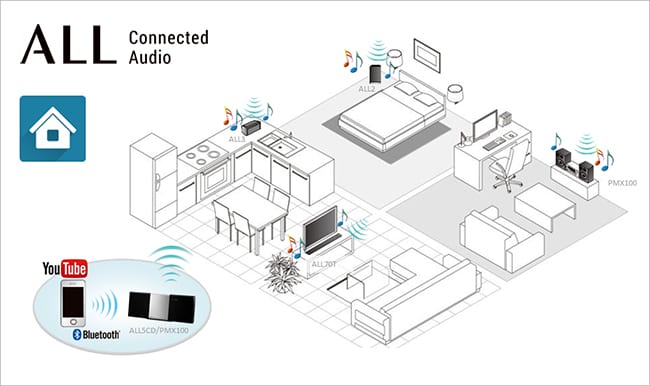 Audio received by the Bluetooth-compatible PMX100, ALL70T, ALL7CD, ALL5CD, ALL05 or ALL2 can be streamed onto any ALL Connected device throughout your home. The portable ALL05 waterproof speaker even gives the option of taking your music into the bathroom or outside to your yard or garden.
Get more out of your CD collection in multiple rooms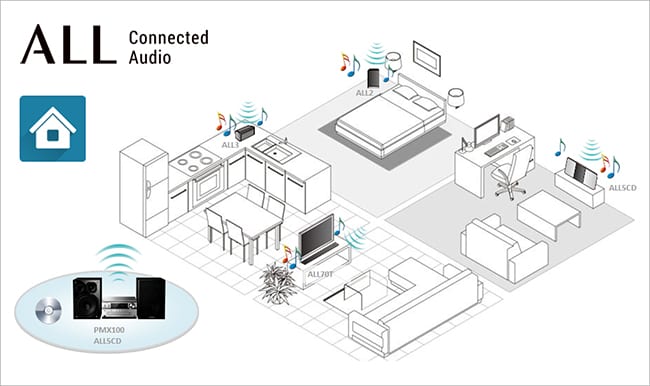 CD sounds played with PMX100, ALL7CD and ALL5CD can be re-streamed to other ALL Connected Audio speakers, for multi-room playback. The clever ALL7CD also offers innovative recording features that let you insert your CDs and save them to the 4GB internal memory so you can shuffle play tracks from up to 25 albums, hear all of your recorded music back-to-back and of course re-stream to other speakers.
Take your TV's audio into another room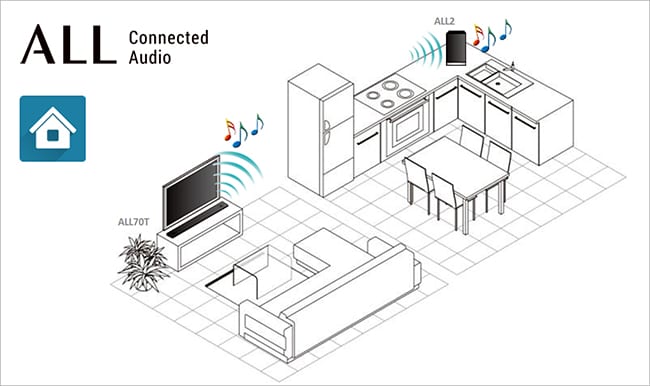 TV sounds played on the ALL70T can be streamed onto ALL series devices in a separate room. Let's say there's a live concert on the TV in the living room, but you've got to cook dinner. With the ALL70T soundbar you can simply stream the concert's sound to an ALL Connected speaker in your kitchen. So easy!
Boost stereo sound with left and right speakers working in harmony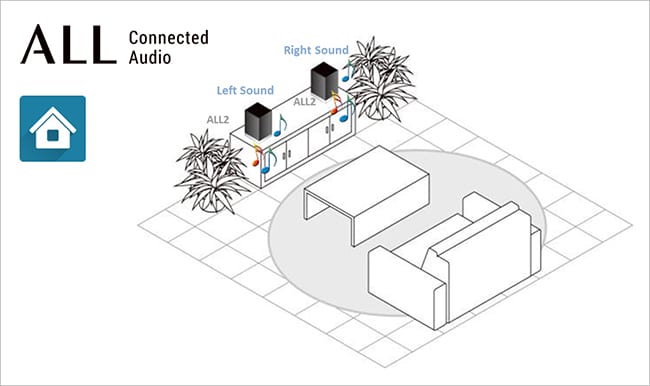 Room-filling stereo sound can be produced by combining two ALL2 devices. The ALL2 is much more than just a stylish and sophisticated networked speaker. It also sports both a clock and a music alarm (via the Panasonic Music Streaming app), making it practical addition to any bedside table or kitchen breakfast bar.
Pair the ALL70T with ALL2 speakers for superb surround sound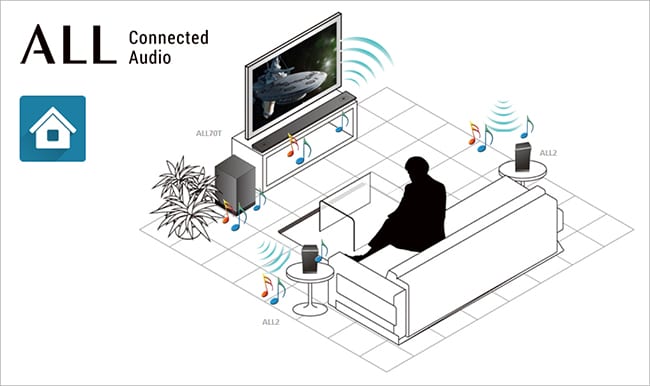 If you want to turn the 3.1-channel sound of your ALL70T soundbar and subwoofer combination into a full wireless 5.1-channel surround sound system, all you have to do is add two ALL2  speakers to deliver the rear channel sound.
ALL Connected Audio Range
More audio & sound system articles