The PMX100 Micro System is a music connoisseur's dream come true. To begin with, the PMX100 is the first of our micro systems to benefit from multi-room compatibility, allowing you to connect to other speakers in the Panasonic ALL Connected Audio range and stream your audio. Plus, it offers high-resolution audio technologies that let you enjoy truly authentic, better than CD quality sound experiences in your home. Finally, this sensational hi-fi boasts the good looks of a genetically blessed supermodel, with its sleek dimensions and a classic finish wrought from high grade materials.
PMX100 loves your CD collection AND your digital library
With so much focus in the audio market on digital music, things can be a bit depressing for those of us who still maintain an expansive CD collection. Barring ripping everything to a PC, or repurchasing every single album online, what's a CD lover to do? Mostly you have to make a call and equip your home with a CD player and a digital option. Both of these worlds come together in one beautiful unit with the PMX100. You can play your CDs and even re-stream them anywhere in the house by networking with other speaker in the ALL connected range.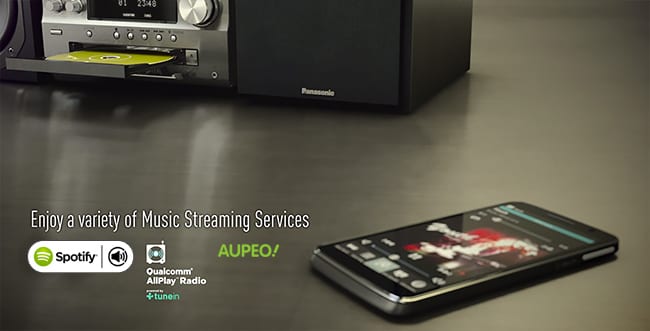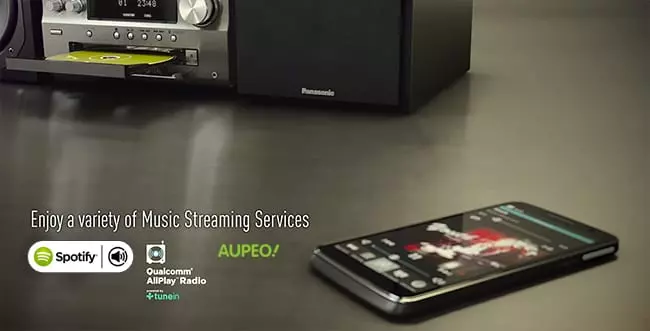 Naturally it also seamlessly supports multi-room digital playback, allowing you to steam music from your smartphone, online music services like Spotify, AUPEO!, ALLPlay Radio powered by TuneIn, DAB+ radio, Bluetooth, USB to other networked speakers.
It's true, the music sounds better with PMX100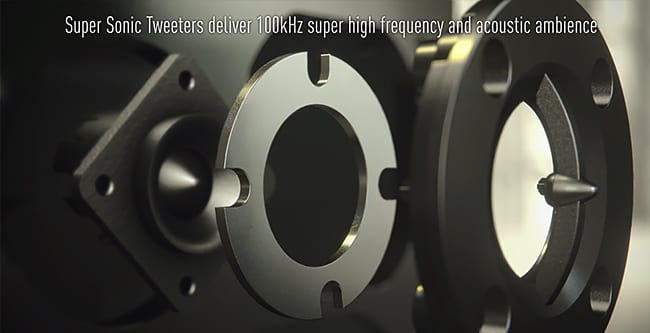 The SC-PMX100 boasts impressive, authentic audio thanks to third-generation digital amp technology that produces sound with greater depth and accuracy. Two separate 3-way speaker speakers, a supersonic tweeter and 14cm Bamboo Plant Opal woofer all work together to help you get the most of the amp technology and 120W power output, faithfully achieving sound exactly as the artist intended. What's more, this fantastic sound system supports playback via USB or DLNA of a variety of high-resolution audio formats.
The PMX100 is a part of the ALL Connected family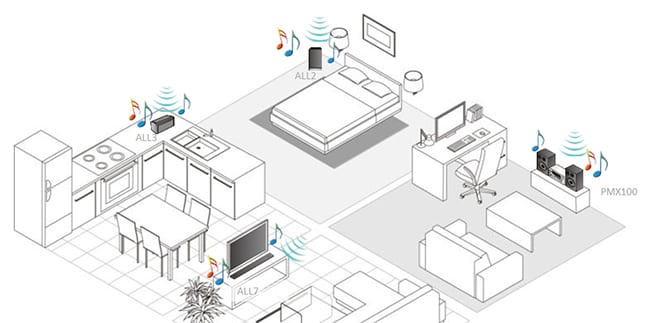 The 2015 range really is an audio family in the most connected sense, comprising the ALL70T home cinema soundbar, ALL2 speaker, ALL5CD all-in-one hi-fi and PMX100 high-resolution hi-fi. Each model can stand alone as a sensational audio unit, or connect with other products in the lineup to create a dynamic sound system.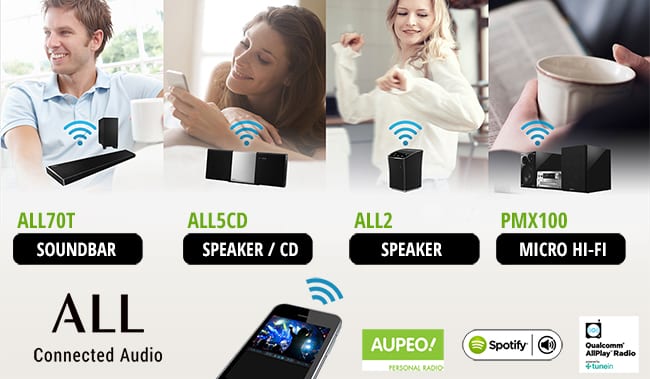 READ MORE
ALL Connected Audio evolves with exciting product pair-ups.
Check out the SC-PMX100 product page.