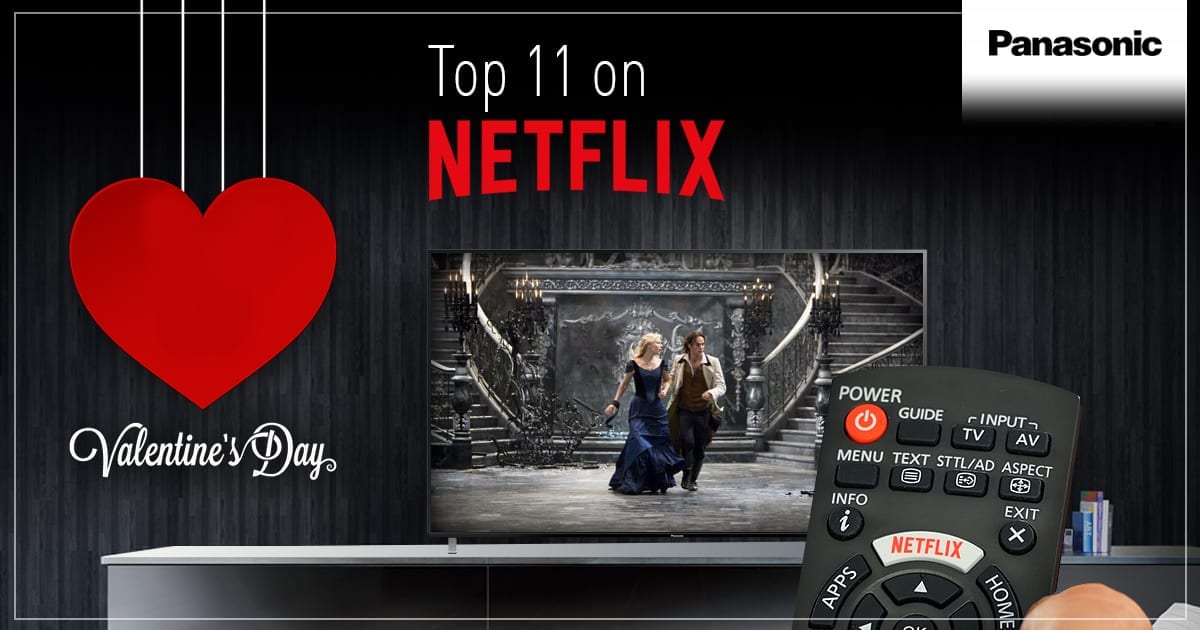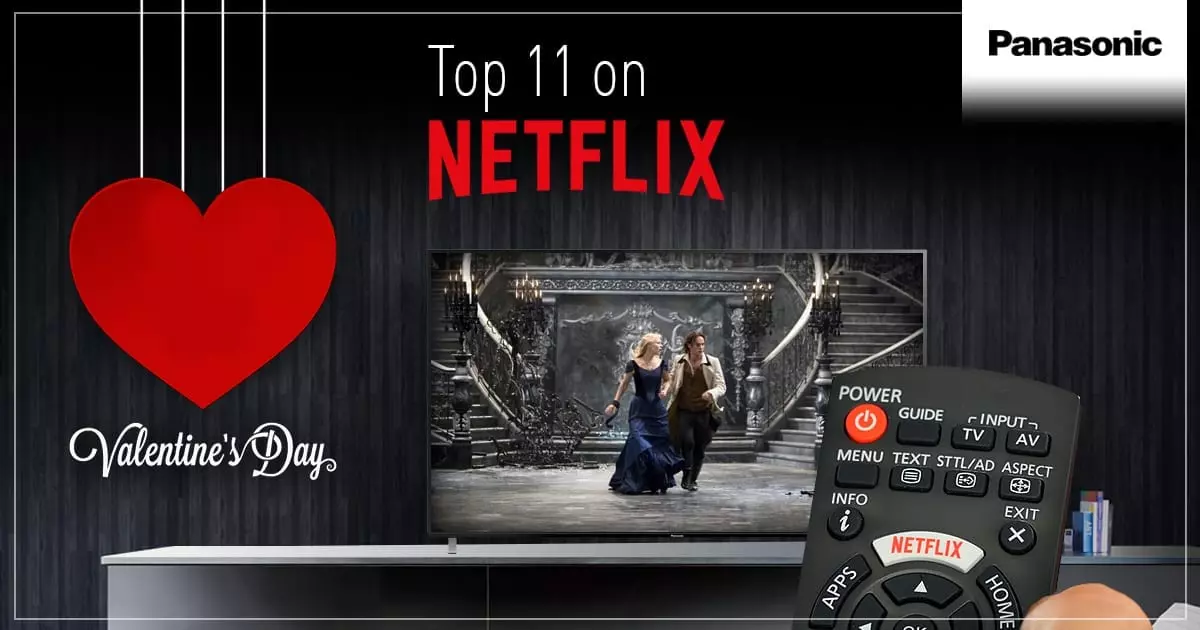 It's Valentine's Day and love is in the air! What better time to settle in for a night of Netflix romance with the one you love? With our stellar line-up of Netflix-ready Panasonic TVs, Blu-ray and HDD recorders, all you have to do is sit back on the couch, press the Netflix button on your remote and let the movies come to you. Check out our top 11 Valentine's Day films for inspo.
1. Stardust
Perfect for romance, adventure and fantasy
To win his true love's heart, wide-eyed Tristan Thorn journeys to a forbidden realm to retrieve a fallen star that has taken human form. Claire Danes, Michelle Pfeiffer and Robert De Niro star in this fantasy tale based on a novel by Neil Gaiman.
2. 4th Man Out
Perfect for romance, angst and laughter
A young mechanic comes out to his extremely straight best friends. Once they get used to the idea, they're determined to help him find the right guy. Variety called this award-winning festival darling a "thoroughly ingratiating, touchingly heartfelt comedy".
3. Date Night
Perfect for romance, action and comedy
Who knew simple dinner reservations under a different name could turn one New Jersey couple's date night so terribly upside-down? Sitcom stars Tina Fey and Steve Carell pair up for this action-packed romantic comedy.
4. Groundhog Day
Perfect for feel-good comedy romance
Sent to cover the annual ritual of groundhog Punxsutawney Phil, a self-centered TV weatherman mysteriously begins living the same day again and again. Bill Murray and Andi MacDowell are perfectly matched in this cult romantic comedy that's been delighting audiences for more than 20 years.
5. The Notebook
Perfect for romance, drama and tears
Two young lovers are torn apart by war and class differences in the 1940s in this adaptation of Nicholas Sparks's best-selling novel, vividly brought to life by young lovers Ryan Gosling and Rachel McAdams. Make sure you have plenty of tissues and a shoulder to cry on!
6. The Curious Case of Benjamin Button
Perfect for tragic love on a grand scale
A New Orleans baby is born an old man. An old man dies a tiny baby. In between is an unbelievable life. This epic film earned three Oscars and 13 nominations, including acting and directing nods for Brad Pitt and David Fincher.
7. Clueless
Perfect for romance, laughter and nostalgia
Meddlesome Beverly Hills high school student Cher gets more than she bargained for when she gives a fashion-challenged student a makeover. The classic comedy co-stars Paul Rudd in an early role, Alicia Silverstone and the late Brittany Murphy.
8. Me Before You
Perfect for romance, drama and tears
Vivacious, unassuming Lou faces pointed questions of the heart when she takes a job caring for a wealthy, cynical bachelor paralyzed in an accident. Based on the best-selling novel by Jojo Moyes, this tear-jerker stars Emilia Clarke and Sam Claflin.
9. Silver Linings Playbook
Perfect for quirky romance, drama and laughter
After a stint in a mental hospital, Pat moves in with his parents and tries to win back his wife, until he meets a woman who's as unstable as he is. This dramedy was nominated for eight Academy Awards, with a win for Best Actress going to Jennifer Lawrence.
10. Breakfast at Tiffany's
Perfect for old-school romance and glamour
Delightful chaos follows and eccentric charmer throughout New York City… but is Holly Golightly's life just one big cocktail party? This beloved classic starring Audrey Hepburn won two Oscars, captured the imagination of audiences everywhere and made an indelible impact on movies, fashion and society at large when it debuted in 1961.
11. Pride and Prejudice and Zombies
Perfect for ironic romance and belly laughs
When plague-born zombies stalk the 19th-century English countryside, it's up to the feisty Elizabeth Bennett and the proud Mr. Darcy to stop them. It's a comedy historical horror film that parodies the Jane Austen classic and the perfect choice for unconventional romantics.