Go with filmmaker Dave Katague and photographers Rob Mulally and Ewen Bell on a journey to Laos with 'Photography Across Borders'. In this wonderfully-shot documentary, filmed with the new LUMIX GH5 mirrorless camera, you'll experience the powerful creative exchange that took place when the LUMIX ambassador team worked with local photography students from Carol Kresge's My Library community language project. Using cameras and lenses donated to My Library by LUMIX, the photographers participated in workshops and visited some incredible locations around the Luang Prabang region to take in its beauty and find some awe-inspiring photographic moments… see for yourself!
WATCH: Photography Across Borders
Filmed using DC-GH5GN-K (GH5 Camera), H-X012E (12mm f1.4 Panasonic Leica Summilux Lens) & H-NS043E (42.5mm f1.2 Panasonic Leica Nocticron Lens). Featured artists: Rob Mulally, Ewen Bell and Dave Katague. Music Composer: Cassie To.
My Library – The Language Project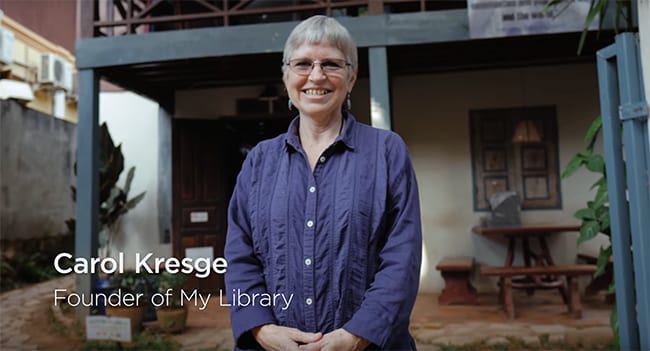 "Part of what my project is about believing that everybody deserves an opportunity to improve themselves and their lives and their community, and good tools are part of that opportunity so I'm extremely grateful that the tools will not hold them back."
– Carol Kresge, Founder, My Library
Dave Katague, Filmmaker and LUMIX Ambassador
Follow Dave on Instagram: @davekatague
Rob Mulally, Photographer and LUMIX Ambassador
Follow Rob on Instagram: @robmulally
Ewen Bell, Photographer and LUMIX Ambassador
Follow Ewen on Instagram: @ewenbell
LUMIX Australia, Proud to Support My Library
Follow LUMIX Australia on Instagram: @lumix_au
Panasonic LUMIX would like to extend a special thank you to Carol Kresge of My Library for allowing us the opportunity to contribute to this amazing project.
Visit http://www.thelanguageproject.org.
LUMIX G Series Camera & Lens Range