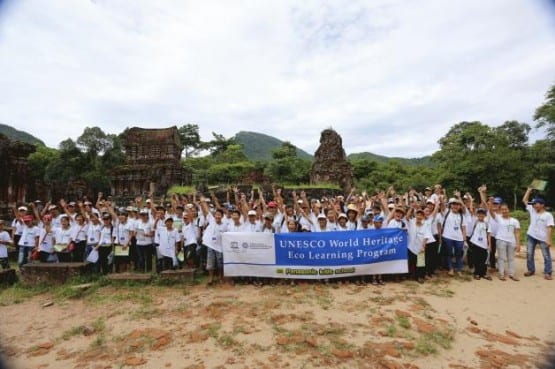 The UNESCO World Heritage Eco Learning Program promoted by Panasonic under the strategic partnership with UNESCO, recently focused attention on two world heritage sites in Vietnam; My Son Sanctuary and Hoi An Ancient Town – Quang Nam Province. Secondary students and teachers in Vietnam took part in a variety of activities designed to increase awareness of these magnificent sites, including a tour to discover the historical and architectural value of the My Son Sanctuary, a traditional performance by the Cham people to learn about ancient culture of the Champa Kingdom, lectures and team competitions.
During the program, many other joint events also took place, such as the "Heritage in Your Hand" contest and a media-training seminar for video shooting for fifteen young conservation staff members from the My Son and Hoi An heritage management board.
The events were a great success with representatives from government authorities of Quang Nam province, Heritage site management board, department of Education and Training as well as representatives from UNESCO Hanoi Office and Panasonic Vietnam in attendance.