Tuesday 18 October, 2011
5pm Darwin Time – provisional end of day results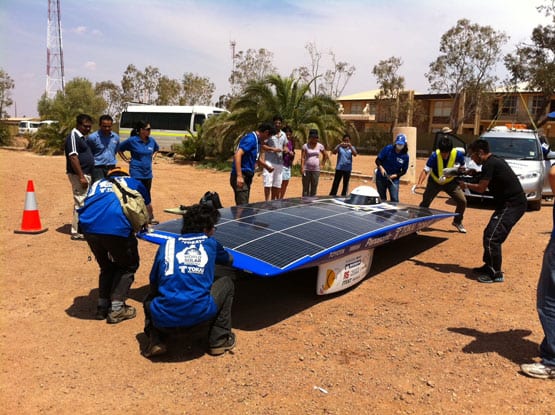 As unofficial day 3 leader Team Tokai charged across the South Australian border, Tokai are preparing to spend their first night in South Australia in Marryat Creek, 1825 kilometres south of Darwin, having passed through Kulgera Control stop at 4.32 pm. Team Nuon from the Netherlands and Michigan University are in 2nd and 3rdplace respectively and will leave Kulgera Control Stop tomorrow morning.
Approximately 200 kilometres back there is a tussle for 4th, 5th and 6th place with the order changing several times during the afternoon. Just minutes are separating Ashiya from Japan (4th), Australia's Aurora (5th) and Twente (6th) from the Netherlands.
Team Uni NSW is in 7th position approximately 100 kilometres south of Alice Springs and Umicore from Belgium in 8th position is just south of Alice Springs. Istanbul University is in 9th position and Stanford team USA in 10th.
Back in the field, all teams have now reached Tennant Creek or beyond.
We look forward to further excitement on the Stuart Highway tomorrow.
2011 Velolia World Solar Challenge Day 3 – Provisional Results
To follow Scott's journey as he accompanies the Tokai University solar car team visit:
Facebook:

http://www.facebook.com/PanasonicAustralia
Twitter:

http://twitter.com/panasonicau
Handle: @PanasonicAU
#WSC
#WSC2011