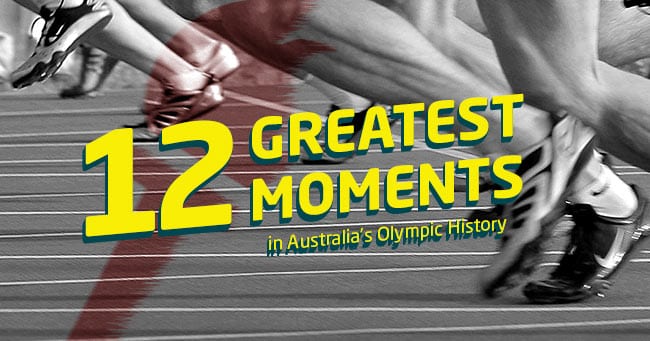 "I think if you look for it, you see the true spirit of the Olympics demonstrated constantly."
– Harry Gordon, AOC Historian
As our athletes prepare to show their team spirit at Tokyo 2020, we look back at 12 of the greatest moments in Australia's Olympic history. This is something of a love letter… an homage to the Games that have inspired our nation, the times we punched well above our weight, the athletes who defied the odds, the heartbreaks and the heroics, the experiences that united our country with the true spirit of the Olympics.
1. Cathy Freeman's breathtaking victory lap after winning the 400m gold,
Sydney 2000

Cathy Freeman's role in the Sydney 2000 Olympic Games embedded her name forever in Olympic history. She lit the cauldron in the Olympic Stadium – after the torch had been handled by six Australian women, who had between them won 15 gold medals – in an Opening Ceremony that celebrated both a century of women's participation and the heritage of indigenous Australians. Eleven nights later she fulfilled a mission that had absorbed her life: she won the 400m final, becoming the athlete of the Games.
The weight of expectations she carried into that race was enormous. Apart from the hopes of a nation, there was an extra load – 200 years of history. Fourth out of the blocks, she appeared to catapult herself clear of her rivals in the straight. Later she danced through a victory lap, carrying Australian and Aboriginal flags.
2. Peter Norman's solidarity on the medal podium,
Mexico 1968

Peter Norman's place in Australian Olympic history is a unique intersection of record-breaking athletic achievement and ground-breaking global events which famously played out on the Olympic stage. Peter claimed his place in our track and field history when he lunged ahead of Carlos to finish second to Tommie Smith and claim that silver medal.
It was a remarkable effort to split the American champions in a personal best time. Peter's time of 20.06 seconds was an extraordinary feat in its time. So much so, it has never been bettered by an Australian and remains our national record for the 200 metres sprint to this day. But it was during the medal ceremony which followed that Peter etched his name in Olympic history a second time when he stood in solidarity with the two Americans. Peter wore the badge of the Olympic Project for Human Rights along with Smith and Carlos and the image of the three figures on the Olympic podium became an iconic symbol of the civil rights movement in the U.S.
3. Betty Cuthbert sprinting to "Golden Girl" with 3 gold medals,
Melbourne 1956

Betty Cuthbert will forever be known as the Golden Girl of the 1956 Melbourne Olympic Games, where she won three sprinting gold medals and entrenched herself in the collective affection of a nation. She was 18, straw-blonde, and she bolted into public consciousness from virtually nowhere. In nine days she won the 100m, the 200m and anchored the team that won the 4 x 100m relay – becoming the first Australian, male or female, ever to win three gold medals at a single Games. Eight years later, after a retirement that did not last, Cuthbert tackled the 400m at the Tokyo Olympics, ran flawlessly and collected a fourth gold medal.
4. Craig Stevens' incredible sacrifice to help Ian Thorpe win gold,
Athens 2004

Craig Stevens will forever be remembered as the chap who surrendered his right to swim in the 400 metres at Athens, to enable Ian Thorpe (who had failed to qualify for the 400-meter at the Australian Olympic trials after being disqualified for a false start in the qualifying heats) to successfully defend the Olympic title that he had won at Sydney 2000.
5. Yvette Higgins propelling the women's water polo team to gold,
Sydney 2000

Yvette Higgins won a gold medal for Australia in women's water polo at Sydney 2000. Higgins holds a special place in Olympic sporting history: it was her goal with 1.3 seconds remaining in the final which gave Australia victory as women's water polo debuted at the Games. Australia had been tied 3-3 with the United States when Higgins rifled a shot from outside the seven metre line into the back of the net, sending the 17,000-strong crowd and the nation into a frenzy.
6. Steven Bradbury becoming an unexpected skating gold icon,
Salt Lake City, 2002

Of all Australia's victories in the Olympic Games, undoubtedly the most bizarre was that of Steven Bradbury in the 1000m short-track speed skating final at the Salt Lake City 2002 Winter Games. Bradbury, whose gold medal was the first ever won by an Australian at the Winter Olympics, was dubbed "the Accidental Hero" after his four rivals all collided, tumbled and sprawled around the ice, leaving him to skate alone past the finish line. This sensational scene marked the end of a career which had embraced four Olympics, an earlier bronze medal, much sacrifice, and some horrific injuries.
7. Bill Roycroft leaving hospital to seal the three-day eventing gold,
Rome 1960

The deed for which Bill Roycroft will forever be renowned occurred at the Rome Olympics in 1960. On the last day of the three-day equestrian event, Australia faced a grim predicament. Two riders, Laurie Morgan and Neale Lavis, were doing well; Brian Crago's horse had broken down, and the fourth member of the team, Bill Roycroft, was in hospital – concussed, sedated, with extensive bruising and muscle damage.
Doctors refused to sanction his release from hospital. Finally, he signed a document taking responsibility for his safety, and was allowed to go. He was 45, laced heavily with pain-killers, unable to bend, and his comrades had to dress him for the last ride. He was virtually folded onto Our Solo, and the reins were placed in his hands. Stiffly, flawlessly, he completed the round of 12 jumps, ensuring team gold for Australia.
8. Matthew Mitcham's heart-stopping ten metre platform gold,
Beijing, 2008

Matthew Mitcham produced the performance of his life — no less than the highest scoring dive in Olympic history — to win the 10-metres platform event at the 2008 Beijing Olympic Games. In doing so he denied China a clean sweep of all eight diving events on offer in Beijing's Water Cube, and became Australia's first male diving gold medallist since Dick Eve in 1924. Mitcham was 30 points behind the Chinese favourite Zhou Luxin before his last dive. To win he chose a back two-and-a-half somersault with one-and-a-half twists and a 3.8 degree of difficulty.
9. Jane Saville heroically walks her way to redemption with bronze,
Athens 2004

Jane Saville's Sydney 2000 Olympic Games campaign was one of the most heartbreaking stories of the Games. Leading the field in the 20km road walk, Saville had less than 300 metres remaining to the finish line. With the capacity stadium roaring, Saville was tragically disqualified. In Athens four years later, Saville beat her demons to win the bronze medal in the 20km event, Australia's first women's Olympic walking medal in 1:29.25 in extreme heat.
10. Alisa Camplin wins Australia's first-ever skiing gold medal,
Salt Lake City 2002

When Alisa Camplin won Australia's first Olympic skiing gold medal ever at the 2002 Salt Lake City Winter Games, she ended one of the most unlikely journeys in the history of Australian sport. She was 27 years old, and for 22 of them her ambition had been to compete at an Olympic Games.
She rarely saw snow before she was an adult, and did not buy her first pair of skis until she was 22. Camplin's passage to the Olympics involved seven years of hard labour, with a procession of increasingly difficult somersaults and some awful accidents. She broke her collarbone and a hand, separated her shoulder, dislocated her sternum twice, ripped her hip flexor out of her groin, broke both ankles, tore her right knee and cracked 12 ribs. But after she soared through two perfect triple twisting double somersaults to win the Olympic gold medal at Deer Valley, she felt all the agony had been worthwhile.
11. Herb Elliott beats his own record to win gold in the 1500 metres,
Rome 1960

Many Olympic athletes have won more gold medals than Herb Elliott. But few people have ever exercised such absolute authority in any branch of sport as Elliott did in middle-distance running. In 42 races from 1957 to 1961, he was never beaten over 1500 metres or a mile. Testimony to his greatness is the fact that, although he won the Olympic 1500m in 1960, his winning time then would have still been good enough to win gold medals in Seoul (1988), Barcelona (1992) and Atlanta (1996).
12. Harry Gordon's Olympic love affair from Helsinki in 1952 until his passing in in 2015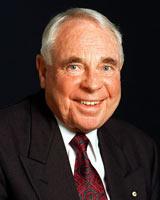 Harry Gordon, a legendary journalist, war correspondent, editor and author, was a man head-over-heels in love with the Olympic Movement. From the war zone in Korea, he was sent to report on his first Olympic Games in Helsinki in 1952 where his faith in humanity was restored by peace and goodwill in the name of sport. In a distinguished career that spanned more than 70 years, Mr. Gordon was recognised as an Olympic journalist without peer, earning the respect of athletes and sporting organisations at home and across the globe.
He became the official AOC Historian in 1992. In 1999 he was awarded the AOC's highest award, the Order of Merit and in 2001 he received the International Olympic Committee's (IOC) highest honour, the Olympic Order for his outstanding service to the Olympic Movement. Mr. Gordon's friend of 30 years, Australian Olympic Committee president John Coates said "his life was a gold medal performance", and no list of Australia's greatest Olympic moments could ever be complete without celebrating the passion of this extraordinary champion.
READ MORE
John Coates tribute to Harry Gordon
@AUSOlympicTeam Updates