National Recycling Week begins today! The initiative, founded by Planet Ark in November 1996, aims to bring a national focus to the environmental benefits of recycling. In addition to promoting kerbside, industrial and community recycling initiatives, National Recycling Week also focusses on giving people the tools to minimise waste and manage material resources responsibly at home, work and school.
With that in mind, we'd like to introduce you to our Panasonic Eneloop rechargeable battery line. A sustainable alternative to conventional (dry cell) batteries, Eneloop is the perfect choice for those interested in minimising waste and managing material resources.
The problem with conventional batteries
More than 170 billion dry batteries (also known as alkaline) have been sold in 120 countries, with projected sales of 200 billion units by 2018. These batteries can only be used once and then they end up as landfill waste. If you laid those batteries end-to-end they would extend 8,500,000km. Think of that distance as 11 return trips to the moon and you'll realise that is a lot of landfill.

Eneloop batteries keep creating new life
Rechargeable Eneloop are the world's leading alternative to conventional dry cell batteries. Offering the same high performance standards, Eneloop batteries don't become material waste after the first use. Each Eneloop battery can be recharged up to up to 2,100 times*, saving 2,009 batteries from landfill (and saving you a lot of money).
What's more, thanks to extremely low self-discharge capabilities, pre-charged Eneloop can be used immediately or stored for up to five years while retaining up to 65% capacity**. As well as delivering convenience, economy, and high voltage performance, Eneloop is good for the environment. So if saving money, time, and nature's ecology sounds good, make the change to a sustainable lifestyle.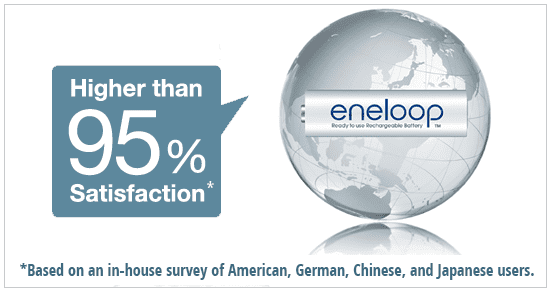 Read more about Eneloop batteries.
Download Panasonic Battery Catalogue 2014 (PDF 10.6 MB).
Eneloop product page.
*Battery life based on testing method established by IEC61951-2 (7.5.1.3). Varies according to conditions of use.
** Capacity retention based on testing method established by IEC61951-2 (7.3.2) when stored at 20°C (based on Panasonic's estimation). Varies according to conditions of use and compared with minimum capacity.