Updated June 2015
The Panasonic washing machine range and load capacities easily cater to everyone from busy singles to families as big as a football team. The feature set of our latest models (five new front loaders and the introduction of two top loader models) has been updated to incorporate innovations in Panasonic's unique ECONAVI technology for increased energy saving; and Steam Action to reduce wrinkles and lighten your ironing load as well as providing fully refreshed, allergen-free garments.
FRONT LOADERS
Expanding Panasonic Front Loaders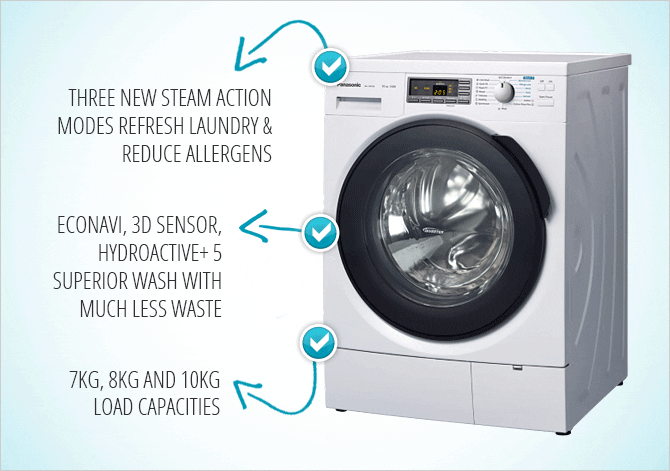 Front Loader Feature Highlight | NEW ECONAVI Clothes Material Sensor
The new clothes material sensor, available on 10kg and 8kg front loaders, detects whether the wash is primarily composed of cotton or synthetics – a heavier cotton wash will need more water and rinsing, while a synthetic wash can be completed more quickly, saving time and energy.
Front Loader Feature Highlight | Sizzling Steam Heat
Panasonic's intelligent Steam Action technology lightens the load of laundry by cutting ironing time, reducing washing time for items that only need a refresh, and removing allergens. Available on NA-140VS4WAU and NA-148VS4WAU models (as per June 2015).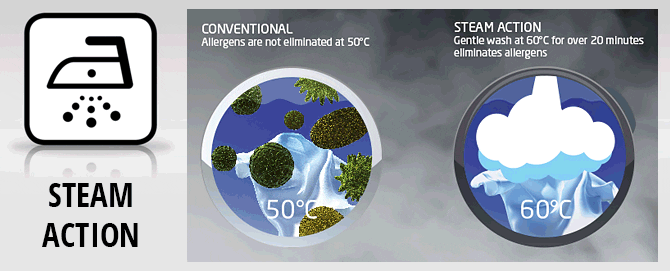 STEAM ACTION Wrinkle Care
Wrinkle Care, which reduces the wrinkles from wet or dry clothes without washing; as well as a wash cycle for 100% cotton shirts and one for casual wear.
STEAM ACTION Steam Refresh
The Steam Refresh program removes lingering odours from garments or non-washable items – offering a quick solution to refreshing items which don't require a full wash or dry clean.
STEAM ACTION Steam Allergy-care
Steam Allergy-care also removes 99.99% of allergens meaning allergy sufferers can have peace-of-mind with garments remaining dust mite and pollen-free.
TOP LOADERS
Introducing Panasonic Top Loaders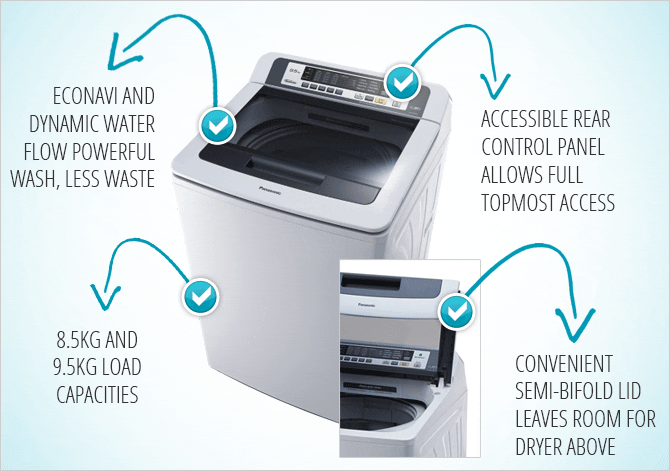 Top Loader Feature Highlight | Dynamic Water Flow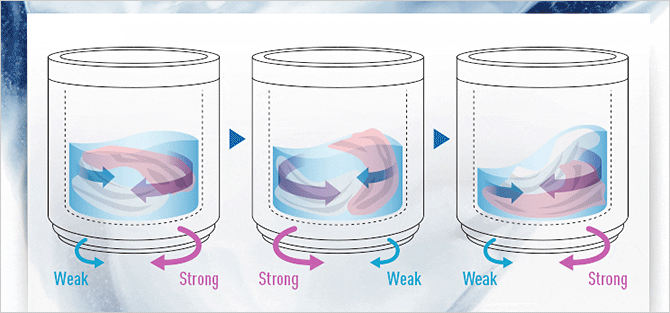 Designed to ensure clothes are rotated throughout the drum for a thorough wash. Thanks to the unique control, the pulsator moves at different strengths, generating a motion that uniformly agitates clothes.
Learn more
Waste less and save more with Panasonic eco features.
Check out Panasonic's Washing Machines range.