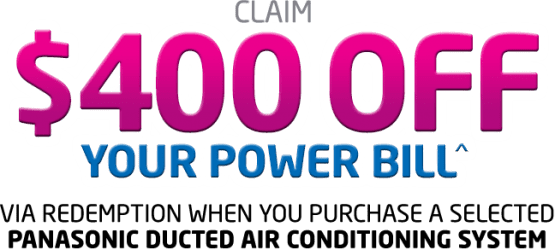 As the temperature drops your home should be an escape from the elements, but with the rising cost of electricity it's understandable if you're reluctant to turn on the heating as often as you'd like to. This year Panasonic has come to the rescue with an offer that allows you to save an incredible $400 off your winter power bill.
Simply by purchasing selected Panasonic Ducted Air Conditioners between 1 May, 2013 and 31 August, 2013, you can claim $400 off the power bill of your choice. However, the energy savings don't end there.
Panasonic's Inverter Ducted Air Conditioner range features advanced technology that means they rank among the most energy efficient models on the market. By using the exact amount of power required to rapidly heat or cool a room from the moment the air conditioner is switched on, you'll enjoy effortless energy savings for many winter and summer seasons to come.
To take advantage of this promotion simply provide your electricity account details after you've purchased a selected Panasonic Ducted Air Conditioner, and then ensure your claim is received via mail within 20 calendar days of purchase. Then enjoy a warm and cosy winter inside without feeling the sting of a large energy bill.
Find out more here.