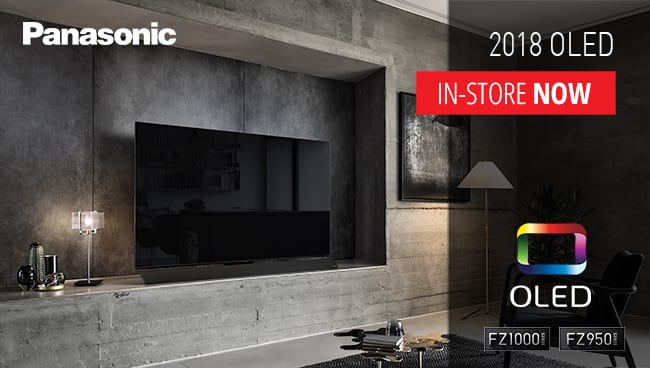 The wait is over! You can now head in-store to experience the new benchmark we've set for cinema-grade picture quality with our latest OLED 4K HDR TVs.
Panasonic OLED TVs are the choice of Hollywood professionals
Take a closer look at the powerful mix of pro-grade image tech & Hollywood expertise used to perfect our new FZ1000 & FZ950 Series OLED TVs.
Tuned and used by Hollywood cinema professionals
Panasonic works closely the film industry's top colourists, image scientists and engineers to tune and test our phenomenal OLED TVs. As a result, renowned studios now use Panasonic OLED televisions as an essential part of their work processes. Our OLEDs are "the choice of Hollywood," meaning that you can own the very TVs which are also being used to create the movies and TV shows you love.
Elite THX and Ultra HD Premium certification credentials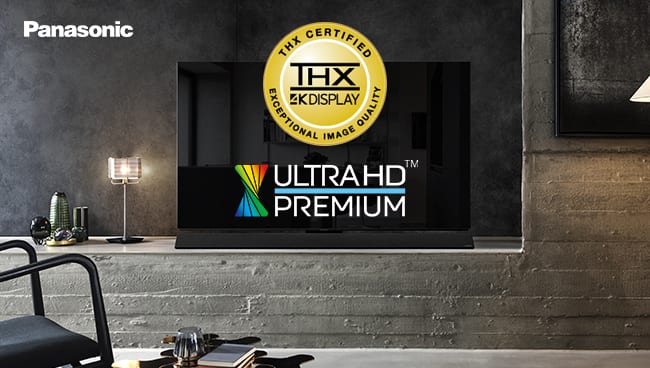 Panasonic's flagship OLED TVs meet the stringent specifications required to receive the stamp of approval from both the UHD Alliance (Ultra HD Premium) and THX (THX 4K Display) quality control organisations – a recognition of picture quality and accuracy that precious few TVs achieve.
Production-grade image processing and colour management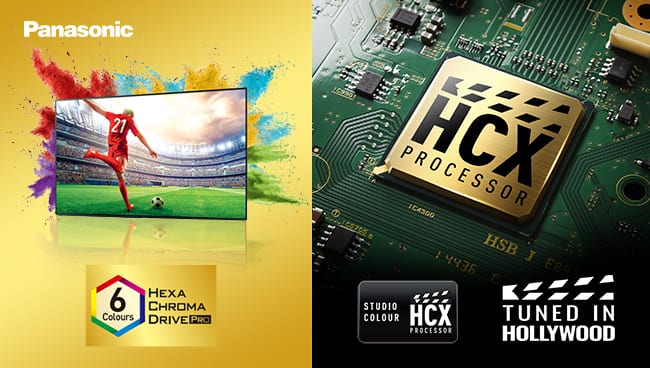 Panasonic has taken technology used by Hollywood professionals in post-production and broadcast, and it's now built into the HCX 4K processor delivering the power to drive a completely new Dynamic LUT (Look Up Table) system to achieve amazing colour precision. Hexa Chroma Drive PRO colour management technology is also on board for astounding accuracy, and a unique Absolute Black Filter inside Panasonic OLED TV neutralises reflections to deliver intensely rich and accurate black shades.
Panasonic OLED TV's HDR story will be enhanced by HDR10+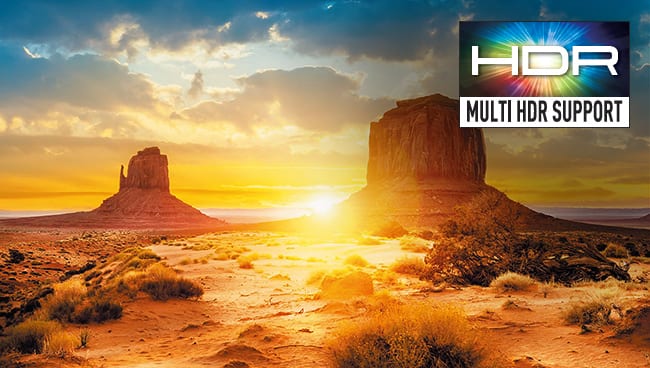 High Dynamic Range (HDR) reveals the dynamic contrasts between dark and light to deliver images much closer to the way your eyes see the real world. Panasonic LED TVs support multiple HDR formats, such as HDR10 (which is the standard HDR format for films and UHD Blu-ray discs), Hybrid Log-Gamma and the latest HDR10+ dynamic metadata technology*.
*HDR10+ available soon via firmware upgrade
Rich audio with a Dynamic Blade Speaker tuned by Technics
To deliver the very best audio quality, the FZ1000 Series is complemented by the addition of a 'Tuned by Technics' Dynamic Blade Speaker. This deceptively thin audio system houses no less than 12 speaker units (4 woofers, 4 squawkers, 2 tweeters, 2 quad passive radiators for extra bass) and has been developed in conjunction with engineers from Panasonic's acclaimed Technics hi-fi brand to deliver a refined and realistic soundstage.
Intuitive home screen for hassle-free viewing and content access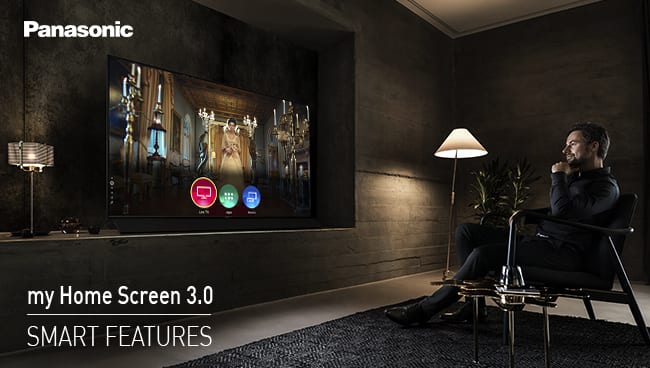 An upgraded intuitive My Home Screen 3.0 smart TV platform lets you customise the home screen for easier access to on-demand or streaming services, and frequently used web browsers, apps and devices. On board you will find all the most popular apps including Netflix, Amazon Instant Video, ABC iView, SBS On Demand, BigPond Movies, YouTube and Freeview Plus. While TV Anytime, Swipe and Share, and Twin HD Tuner capabilities offer loads of flexible viewing options.
Stunning Art & Interior designs, finished with premium materials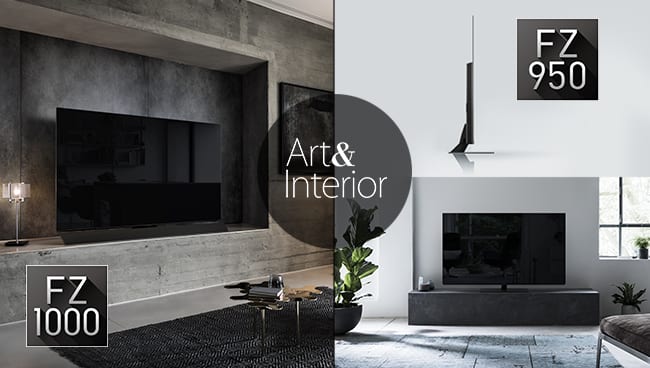 Our latest OLED screens are designed to the highest standards using only premium materials. Fashioned with dark metallic finishes and no visible seams, FZ1000 Series models appear to float above their stands, which also elegantly hide their powerful sound systems. FZ950 Series models offer a stunning, minimalistic design that is enhanced by the exceptionally slim new pedestal and stylish stem connection to the screen.
VIDEOS
Deluxe | Behind the Screens
A colourist's job is to 'paint pictures electronically', working with the directors and cinematographers to craft the colour of what was shot and creating the desired visual tone and feeling for the film, from opening image to closing credits. Meet some of the masters of manipulating light and colour at Hollywood post-production giant, Deluxe, and hear why they use Panasonic OLED 4K HDR TV screens as the client reference monitors on which the industry's biggest names see and approve their movies and series for home release.
THX | Behind the Screens
The renowned THX quality assurance group was founded by legendary filmmaker George Lucas with the goal of improving the entertainment experience in the cinema and at home, so THX certification is really the holy grail when it comes to industry standards. Only televisions that pass 400 THX lab tests within 30 testing categories receive THX 4K Display certification. Hear from the experts at THX about the rigorous performance standards Panasonic OLED TVs must meet in order to gain their certified recognition of exceptional image quality.
Watch More at Panasonic Australia's YouTube Channel
REVIEWS
Find out what the critics and reviewers think of our new OLED range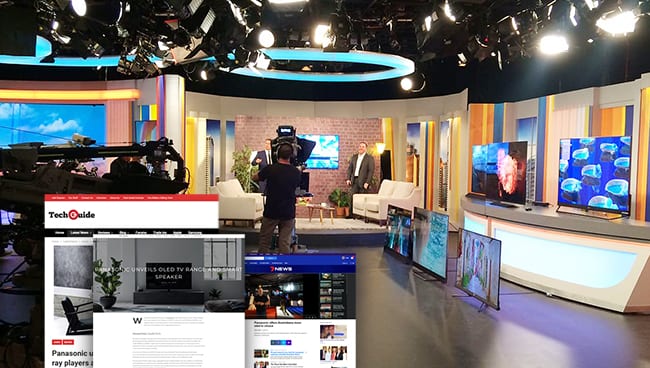 We shine a spotlight on the impressive press coverage for the launch of Panasonic FZ1000 & FZ950 Series OLED 4K HDR TVs.
Tech Guide
"The Panasonic OLED TVs are a magical combination of brilliant panel technology and superior processing that's right out of Hollywood. If you truly appreciate movies, the Panasonic OLED TV will show you how they're meant to look."

"The Panasonic TVs operating system was also refreshingly simple so switching between the sources or apps was super easy."

"If it's good enough for Hollywood, it's good enough for us."
READ MORE
Gadget Guy
"In the colour bar test, all colours were perfect. There was no colour overlap as seen on many LED TVs. And no light bleed as they use individual pixel dimming, not dimming zones. This is impressive… Overall these two models are as close to perfection as you could ask for."
READ MORE
Yahoo 7 News
Djuro Sen, Technology Editor for Yahoo7 News, gives a full report on the Panasonic 2018 AV launch.
WATCH
Tech Guide
Tech Guide's Stephen Fenech treats readers to a fantastic overview of the 2018 range of Panasonic premium TVs, Blu-ray players, and smart speakers.
READ MORE
Hey Gents
"We're impressed by Panasonic's new range, especially the OLED TV's which we're looking forward to getting our hands on. The colours we witnessed were beautiful and deep, perfect for a movie night at home."
READ MORE
BUDGET VERSUS SPLURGE
Get the Panasonic home cinema of your dreams
Want to build a budget-friendly OLED home cinema around the FZ950, or splurge with the FZ1000 as your centerpiece? We show you how!
SPLURGE | FZ1000
Total RRP: $8,248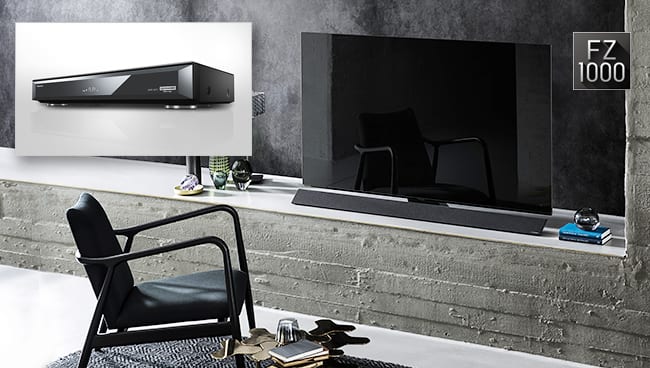 With the 65" FZ1000 OLED 4K HDR TV as the star of your show, you'll become the new neighbourhood benchmark for "keeping up with the Joneses". To complement its superior picture, this phenomenal television boasts an integrated Dynamic Blade Speaker, with Technics engineers responsible for every stage of development, from mechanical and electrical circuit design through to sound tuning, to deliver a refined and realistic soundstage. Top this cinematic masterpiece off with our UBT1 4K Blu-ray/DVD Player & Full HD Recorder and you'll have a set-up to rival the swankiest Hollywood screening room.
FZ1000 65" OLED 4K HDR TV & Integrated Speaker
RRP: $7,149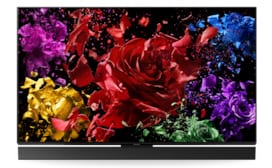 • 4K THX Certified Display
• Ultra HD Premium Certified
• Picture Tuned in Hollywood
• HCX Processor
• 'Dynamic LUT' Colour System
• Hexa Chroma Drive Pro
• Absolute Black Filter
• Multi HDR Support (HDR10+)
• Technics Dynamic Blade Speaker
• Cinema Surround Pro Sound
• Twin HD Tuner
• Smart TV Feature Suite
TH-65FZ1000U
UBT1 4K Blu-ray/DVD Player & Full HD Recorder
RRP: $1,099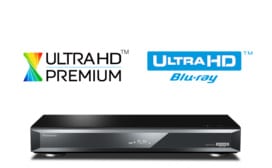 • Ultra HD Premium Certified
• HCX Processor for UHD Blu-ray
• Optimum HDR Processing
• 4K Video on Demand
• 4K Up-Scaling
• High-Res Audio
• 2-Terabyte HDD
• Twin HD Tuner
• Smart Feature Suite
DMR-UBT1GL-K
BUDGET | FZ950
Total RRP: $4,547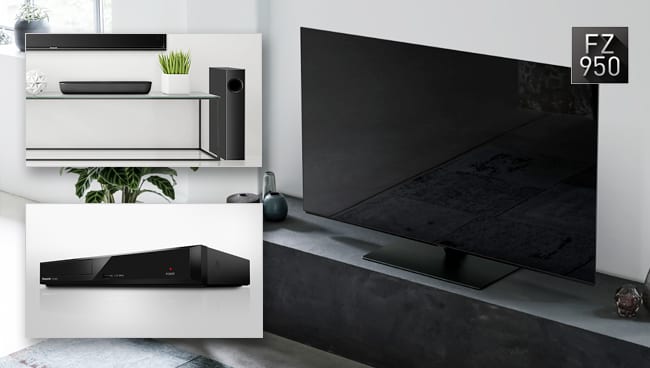 Even if you have a bit less cash to splash, you can create the OLED home cinema of your dreams without compromising on picture quality. Go for the 55" FZ950 OLED 4K HDR TV (which offers the same image processing technology as the FZ1000 range) and pair it with our new HTB250 Mini Soundbar to create a rich audio experience. Add the UB320 4K Blu-Ray/DVD Player into the mix and your living room will become your launch-pad into a whole new world of immersive entertainment.
FZ950 55" OLED 4K HDR TV
RRP: $3,849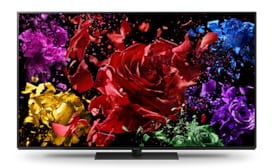 • 4K THX Certified Display
• Ultra HD Premium Certified
• Picture Tuned in Hollywood
• HCX Processor
• 'Dynamic LUT' Colour System
• Hexa Chroma Drive Pro
• Absolute Black Filter
• Multi HDR Support (HDR10+)
• Cinema Surround Pro Sound
• Twin HD Tuner
• Smart TV Feature Suite
TH-65FZ950U
HTB250 Mini Soundbar
RRP: $369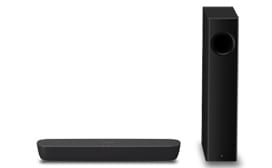 • 120W, 3.1ch Surround System
• Wireless Subwoofer
• Bluetooth
• HDMI-CEC Compatibility
• Audio Return Channel
• Optical Digital Audio Input
• Compact Design
SC-HTB250
UB320 4K Blu-Ray/DVD Player
RRP: $329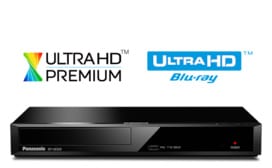 • Ultra HD Premium Certified
• HCX Processor for UHD Blu-ray
• Optimum HDR Processing
• 4K Video on Demand
• 4K Up-Scaling
• High-Res Audio
• 2-Terabyte HDD
• Twin HD Tuner
• Smart Feature Suite
DMR-UBT1GL-K