The times have changed. Our intentions have not.
It all began 100 years ago. Panasonic's history started from the thought "We wish we could use lights and appliances at the same time." And now, our principle of adding a little more brightness to our lives remains unchanged. As our second century dawns, we're ready.
Product History

Panasonic was founded in 1918 by Konosuke Matsushita. That year, Panasonic introduced an improved attachment plug, which allowed people to power an electrical appliance from a light socket. Next was a double cluster socket that made it possible to power lights and appliances from a single source. Our principles of making life ever more comfortable originated from these small ideas.
Panasonic's 100th anniversary is upon us. To address the changing times, we continue to develop the products of the future worldwide, always cherishing the principles our founder defined for us one century ago.
Improved attachment plug
Allowing people to power lights and appliances from a single source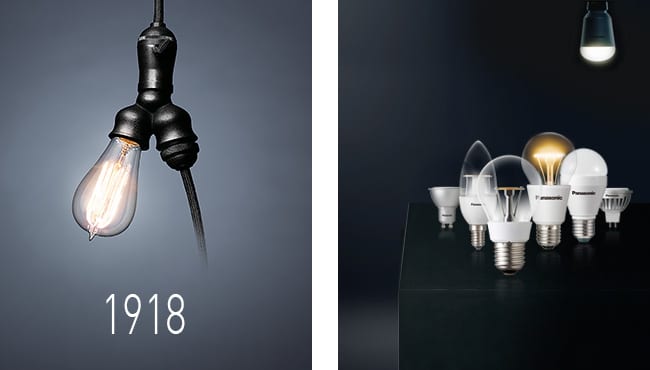 Panasonic was founded in 1918 by Konosuke Matsushita. Taking to heart people's desires to live life ever more comfortably, he worked day and night to develop a wide variety of innovative new products. That year, Panasonic introduced an improved attachment plug, which allowed people to power an electrical appliance from a light socket. Next was a double cluster socket that made it possible to power lights and appliances from a single source. The ideas were small, but the quality and value of the products were excellent, and their reputation spread. By offering better products at reasonable prices, the company began making its contribution to society. Since then, the world has greatly changed, but Panasonic's principles have not. Today, we express those principles with the words, "A Better Life, A Better World."
Washing Machines
Keeping clothing beautiful with minimal time and effort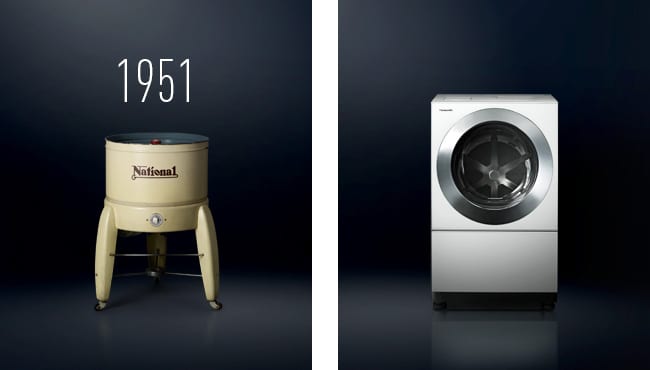 Panasonic introduced its first washing machine in 1951. It symbolized liberation from the chore that consumed so much time. Enthusiasm towards better products led to a washing machine that included cleaning and drying functions with just the touch of a button. In 2003, Panasonic introduced a washer with tilted drum to make loading/unloading laundry easier while reducing water consumption. Following shortly was a model featuring ActiveFoam, generating superfine foam which drastically boosts washing performance. By continually introducing new technologies, Panasonic has led the trend in washing machine evolution. Going forward, Panasonic will continue to reduce the burden of household work while delivering even gentler cleaning and more beautifully finished results.
Refrigerators
Keeping food incredibly fresh and delicious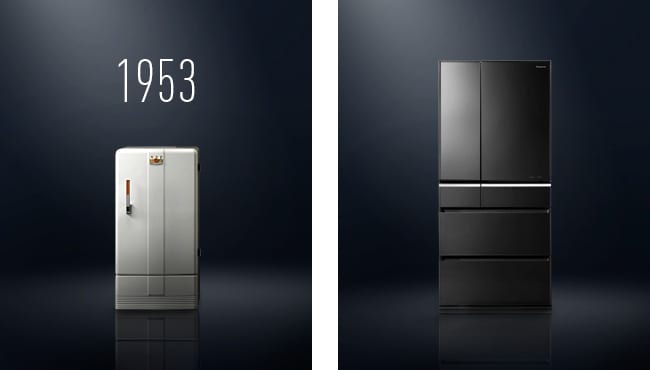 Panasonic introduced its first refrigerator in 1953. It soon became a symbol of the ideal lifestyle where family members could enjoy fresh produce and delicious food. Eating a wider variety of foods than ever before in the 1970s, over 90% of households in Japan came to own a refrigerator. Even after refrigerators became a part of daily life, they continued to evolve. Perfect temperature control for perishable foods was what people were looking for. In support of the growing food culture and its new needs, Panasonic introduced partial freezing, which helps keep perishable foods fresh even longer. Going forward, Panasonic will continue to address the needs of the era while helping families enjoy delicious food.
TVs
Delivering thrills to the living room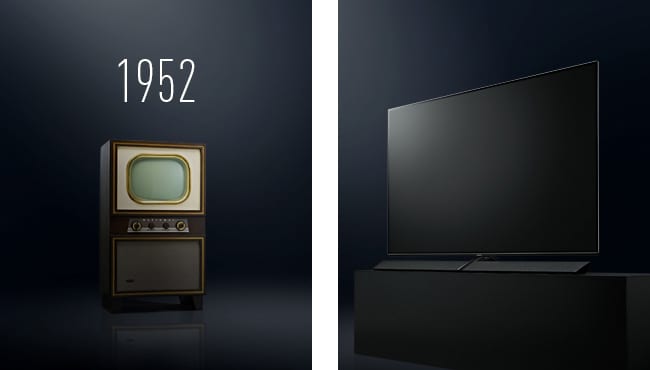 In 1952, Panasonic introduced its first TV, which delivered black-and-white broadcasts. Its TVs drew people in like never before to the new world of audiovisual entertainment. Live, color broadcasts of the Tokyo Olympics largely helped to spur sales of the new color TVs. People also started wanting more out of their TV experience, selecting models with multiple speakers for more advanced sound and models with large screens for more exciting viewing. Recently, Panasonic's newest 4K OLED TV stunned viewers with its incredibly realistic image quality, delivering a more compelling visual experience than ever before. With advanced and refined TV technologies, Panasonic is again ready to help families everywhere enjoy the thrills and emotions of the 2020 Tokyo Olympic games.
Air Conditioner
Keeping rooms cool for outstanding comfort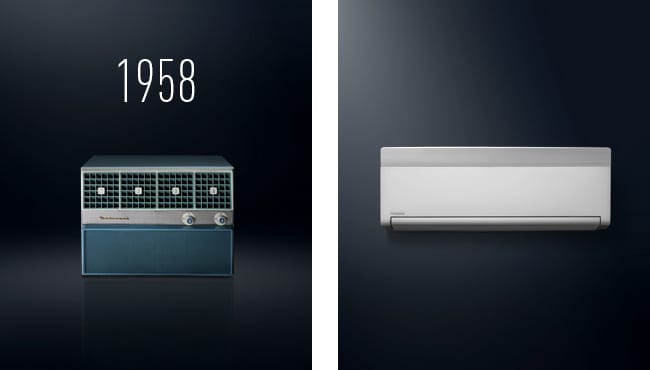 Panasonic launched its first room air conditioner in 1958. This was the model that initiated Panasonic's leadership in developing comfortable air control systems. For comfort, households rapidly adopted room air conditioners both in summer and winter. Amid the social trend towards a more health-conscious lifestyle, Panasonic introduced an air conditioner featuring nanoe™, which employs the purifying power of water. The next Panasonic pursuit of air-conditioned environment comfort led to models featuring indirect airflow. Airflow towards the walls and ceiling created natural comfort. Panasonic air conditioners will continue to evolve for the better.
Hair Dryers
Drying hair to help everyone be their most beautiful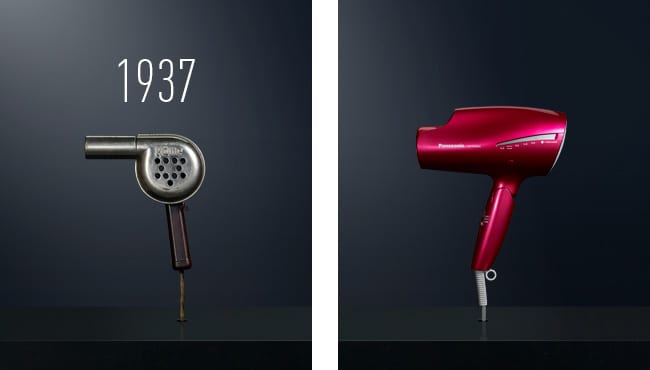 Panasonic hair dryers are a favorite around the world. It all began with the launch of the company's first model in 1937 at a time when allowing hair to dry naturally was the usual approach. Succeeding products were continually sharpened to meet the consumers' need to dry hair more quickly and efficiently. Smooth, shiny, and healthy hair is what consumers living in the 21st century are expecting from their hair dryers. Always seeing beyond existing technologies, Panasonic consistently establishes new types of hair dryers through what is achieved in research, namely the recent development of nanoe™ technology. Hair drying technologies of Panasonic will never stop evolving.
Vacuum Cleaners
Making vacuum cleaners that make housework easier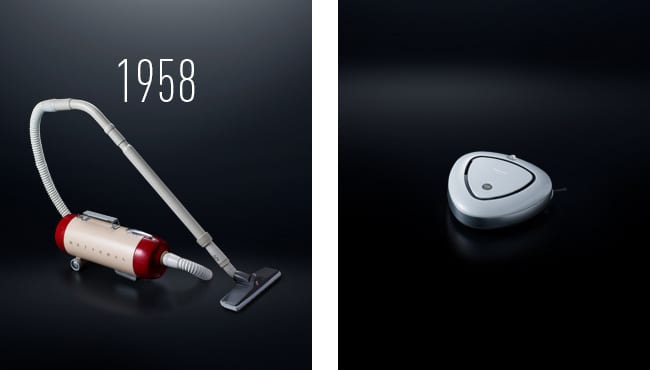 Panasonic launched its first cylinder vacuum cleaner in 1958, helping reduce the time required to complete housework. As Japan's homes continued to evolve, the demand for vacuum cleaners also grew. Dust sensors developed by Panasonic detected dust that human eyes could not see, adding visual elements to vacuum cleaners. Dust detection still remains the core of Panasonic's vacuum cleaning technology today. The year 2015 marked our first robotic vacuum cleaners, the culmination of 30 years' worth of technological development. Cleaning the entire surface of a room, this product has taken labor savings to the next stage by eliminating the need for human intervention. Going forward, Panasonic will continue to develop unique technologies to make keeping the home cleaning easier than ever.
Audio
Delivering a realistic and uplifting audio experience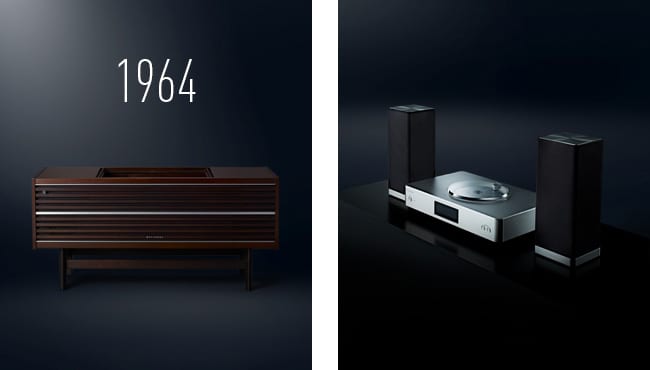 Launched in 1964, Panasonic's stereo console "Asuka" earned acclaim not only for its outstanding sound quality but also for its design as a fine piece of furniture. Then, in 1965, Panasonic launched its first product under the Technics brand. Offering stable rpms for precise sound reproduction, the technology became a worldwide broadcasting standard. In 2015, Panasonic launched the premium all-in-one HiFi stereo system "OTTAVA™." The system delivers truly fine Technics sound in a compact package with a stunning design. With its audio technologies constantly adopting new media, Panasonic has worked to reproduce sound with the greatest fidelity possible and help listeners get a sense of the artist's true intentions. Audiophiles everywhere continue to appreciate the difference.
Microwave Ovens
Making cooking delicious food easy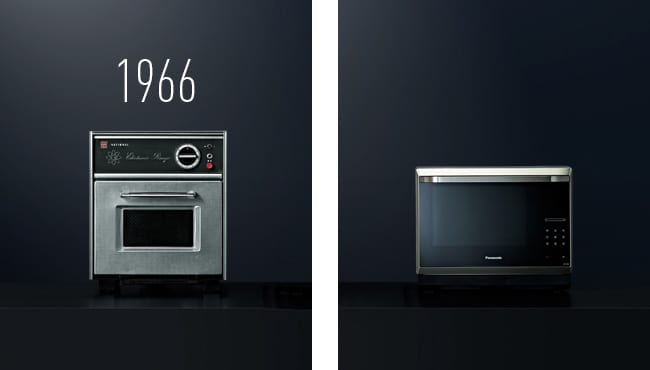 Panasonic introduced its first microwave oven in 1963 eliminating a great deal of the labor required to prepare meals. Succeeding models came with convection oven heating and uplifted microwaves to a multi-function home appliance. Eventually, people would turn to microwave ovens not only for convenience but also enhanced flavor. Panasonic responded to the demand with the microwave oven with inverter technology, which made extremely precise heating control possible. Today, the inverter remains a core technology in Panasonic microwaves. Microwave ovens started out as a simple way to heat food, but they are now advanced cooking tools appreciated by amateurs and pros alike. Panasonic is dedicated to applying advanced technology to enhance cooking into the future.
Cameras
Keeping great memories with us forever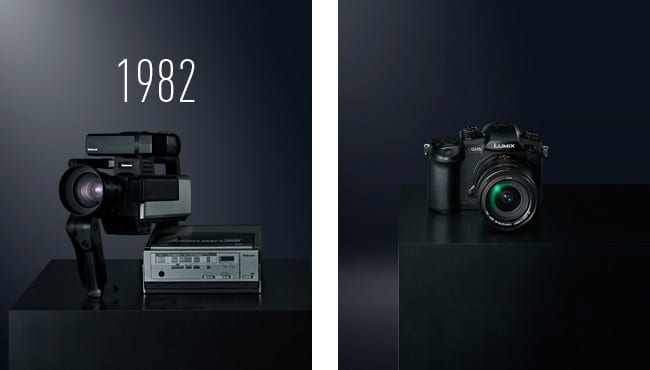 Panasonic introduced its first consumer video camera and portable recorder in 1982, giving people the freedom to record their lives. Later models continued to become more compact and lightweight. Also, electronic image stabilization made it easier than ever to record their lives' most important events on videotape. Panasonic would go on to leverage its video camera technologies in its compact digital cameras. In combination with easy-to-use controls, advanced image stabilization and refined video recording technologies put professional-level video capability in everyone's hands. Today, select Panasonic cameras can shoot video in astounding 4K. Panasonic's leading-edge recording and playback technology mean that memories are preserved with the greatest clarity and realism.
And now for the next century…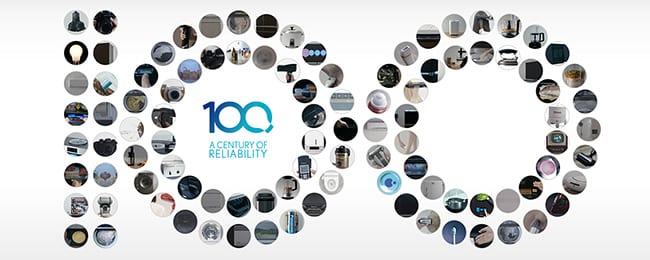 Panasonic is celebrating its 100th anniversary thanks to the support of customers around the world. Following the example of Konosuke Matsushita, we intend to look at things from the perspective of our customers and always listen to their voices. This is how we will continue to understand and address the needs of the times. Embracing change, we will maintain our unchanging dedication to leading-edge craftsmanship, performance, and style. And we will always cherish the principles our founder defined for us, one century ago.