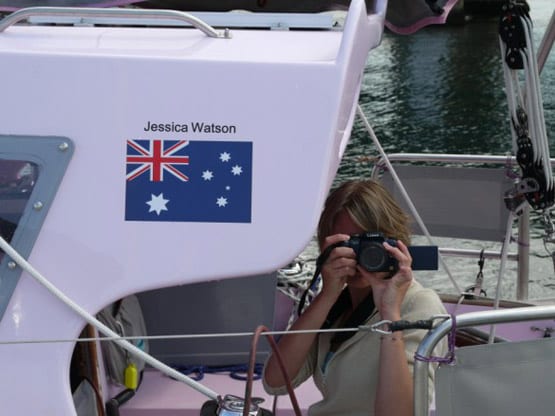 Panasonic are pleased to announce their continued support of around the world sailor Jessica Watson, who will further test her racing skills when she contests the SB3 sports boat class at the 27th staging of the Hamilton Island Race Week.
Hamilton Island Race Week is held in the middle of the magnificent Whitsunday Islands on the fringe of the Great Barrier Reef and is nothing short of a spectacular combination of scenery and competitive racing. More than 200 yachts are scheduled to compete in a variety of classes from the 21st – 28th August.
Jessica's SB3 yacht, named Lumix by Panasonic, will be crewed by fellow solo sailors, Mike Perham, Matt Jones and Sean Lind, all experienced young sailors.
Jessica has previously sailed SB3's and is looking forward to new challenge of competitive racing. "I'm looking forward to sailing with the boys. The racing will be very competitive, with every crew wanting to win in this strict one-design class. But I am in this for the experience, it should be a lot of fun,"
Panasonic first partnered with Jessica in her around the world attempt and see this new phase of Jessica's journey as a continuation of a strong partnership. Jessica will be recording and sharing her race week exclusively with Panasonic's social network fans on Facebook and Youtube. Daily footage will be captured on the DMC-FT2 rugged Lumix camera and the HDC-SD60-R camcorder.
"It's great to have Lumix on board again and we will be taking plenty of pics and videos during the week. So everyone can watch these on Panasonic's social sites." Whilst Jessica's crew is not expected to win the regatta, she certainly has the proven endurance and the super human will to beat the odds..
To keep up to date on Jessica's Hamilton Island Race Week;
– Simply visit the Panasonic Australia blog at for all the latest details.
– Follow Panasonic Australia on Facebook or Twitter
– You can also see the Jessica Watson videos up on our YouTube Channel