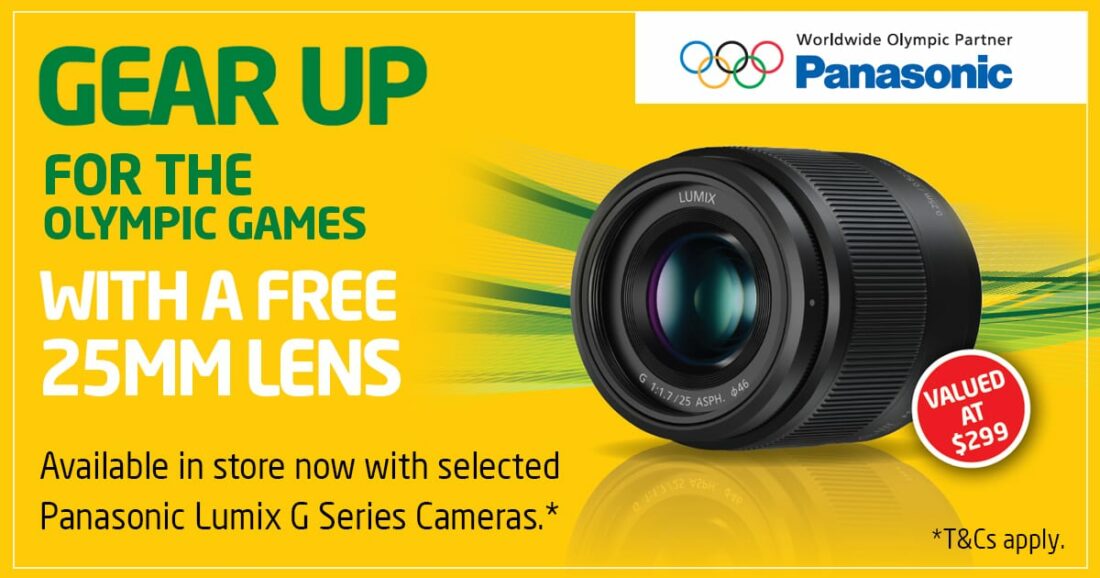 Gear up for the Rio 2016 Olympic Games with a bonus LUMIX G H-H025E 25mm lens worth $299! This fantastic offer is available in store while stocks last when you purchase a selected LUMIX G Series camera between the 15th of July and the 31st of August 2016*.
* T&Cs Apply.
LEARN MORE: Gear up for the Olympic Games with a bonus 25mm lens.
LUMIX G H-H025E – The Versatile 25mm Lens
Micro Four Thirds 25mm Single Focal Length Lens / 50mm (35mm camera equiv.)

Recently recognised as the 'Best CSC Entry Level Lens' at the prestigious 2016 Technical Image Press Association (TIPA) awards, our LUMIX G 25mm lens is the perfect addition to any up-and-coming photographer's camera bag.
With a 50mm* equivalent focal length, the 25mm lens will complement your G Series mirrorless camera kit and help you achieve professional-looking results.
The fast f1.7 aperture lets in a lot of light, which is especially useful in achieving sharp shots with fast shutter speeds indoors and in low light. It also allows you to shoot shallow depth of field, making it a brilliant choice for shooting portraits while creating a beautifully soft bokeh effect in the background.
Weighing only 125g, this lens is also incredibly light and compact, so it isn't going to weigh you down and hamper your shooting freedom.
Social media photographers and Instagram fans in particular will love this LUMIX G lens, with its ability to give the "wow" factor to everything from food shots, fashion pictures and family portraits.
Learn more about the H-H025E
LUMIX G Cameras
LUMIX G Lens
Read more: Lens talk – choosing the right LUMIX lens for the job.
*35mm camera equivalent