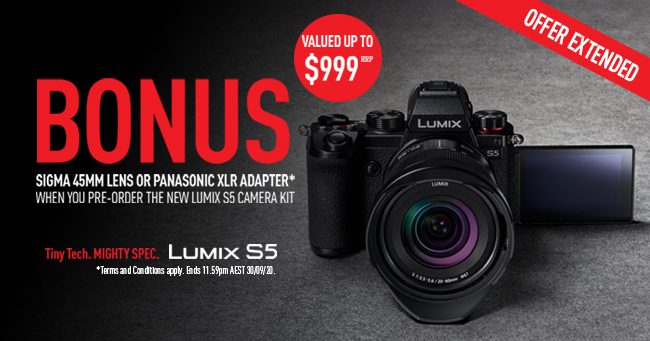 Congratulations on pre-ordering a LUMIX S5 Full-Frame Mirrorless Camera Kit!
Complete your Bonus Product Claim, below:
*Promotion starts 8.01am AEST 03/09/20. Ends 11.59pm AEST 30/09/20. Pre-order claims must be made online by 11.59pm AEST 7/10/20. Final claims must be submitted by 11.59pm AEST
21/10/20. Purchasers must be 18+ years of age. The offer excludes purchases made by trusts, a company (incl. distributors and retailers), a business (other than a sole trader),
education providers, hospital organisations, fundraisers, govt. depts. and similar organisations. Lay-bys not paid in full by close of business 21/10/20 are ineligible. Retain receipts(s).
Only valid for pre-order purchases of the DC-S5K Camera Kit, not the DC-S5 body only.
Full Terms & Conditions are available here.