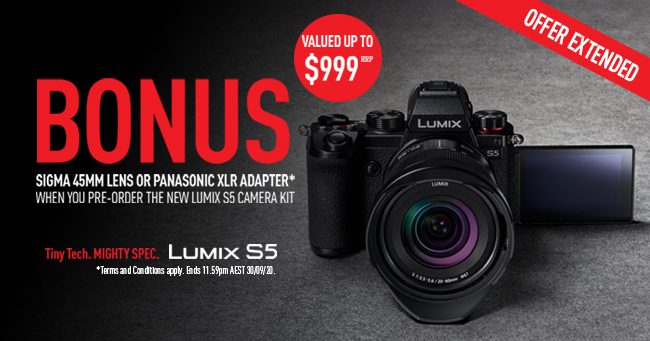 Congratulations on pre-ordering a LUMIX S5 Full-Frame Mirrorless Camera Kit!
Next Steps to Claiming Your Bonus Gift:
Claiming your bonus gift is a two-step process. To have arrived at this page, we should have already received your pre-order details via Claim Form Step 1 – you are halfway there!
Next, once you have your brand new DC-S5K Camera Kit, you simply need to complete and submit the below form by no later than 11.59pm AEST on 21st October 2020.
That's it, no more forms! Upon claim finalisation, we will endeavour to process, dispatch and deliver all bonus gifts within 12 weeks from your final claim being approved.
Complete your Bonus Product Claim, below:
*Promotion starts 8.01am AEST 03/09/20. Ends 11.59pm AEST 30/09/20. Pre-order claims must be made online by 11.59pm AEST 7/10/20. Final claims must be submitted by 11.59pm AEST
21/10/20. Purchasers must be 18+ years of age. The offer excludes purchases made by trusts, a company (incl. distributors and retailers), a business (other than a sole trader),
education providers, hospital organisations, fundraisers, govt. depts. and similar organisations. Lay-bys not paid in full by close of business 21/10/20 are ineligible. Retain receipts(s).
Only valid for pre-order purchases of the DC-S5K Camera Kit, not the DC-S5 body only.
Full Terms & Conditions are available here.