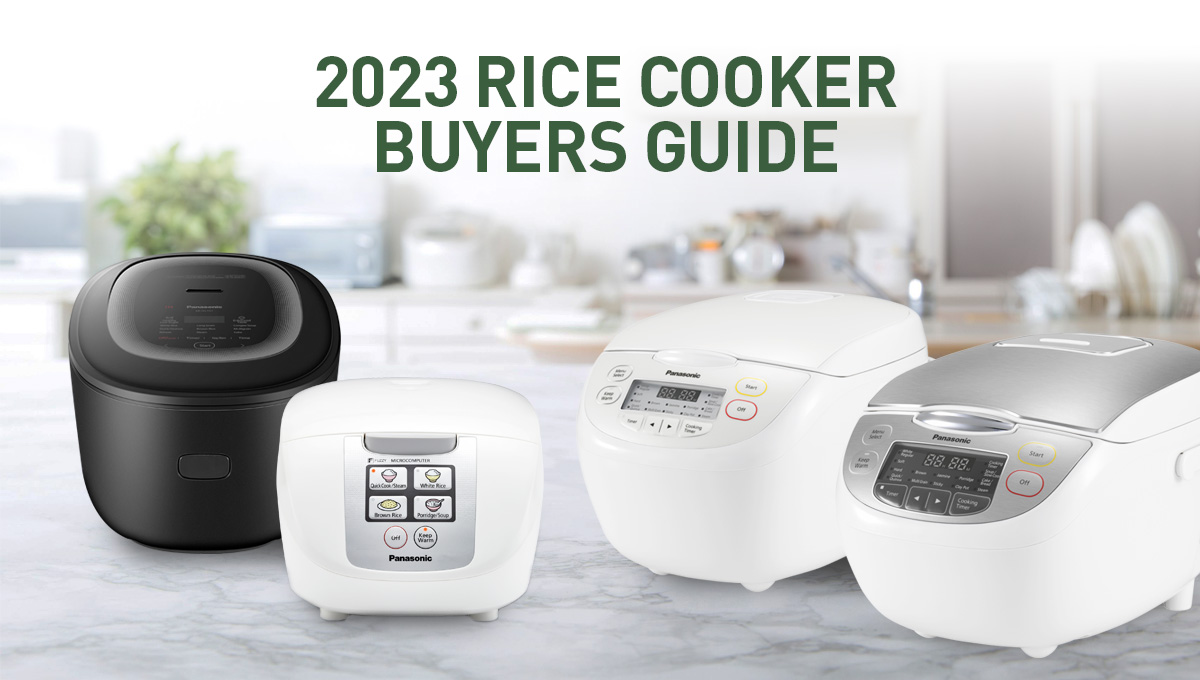 Panasonic Rice Cookers are made to suit a range of budgets and a variety of households. From the bachelor who enjoys a quick and easy meal to the busy, growing family that cooks rice for dinner with enough left over for tomorrow's lunch. Read on to find out what makes the latest Panasonic rice cooker range suitable for any home.
Rice is an inexpensive yet extremely versatile ingredient, thanks to its ability to serve as an accompaniment to a wide range of dishes such as curries and stir frys, or hold its own on centre stage in dishes like fried rice and sushi. It's also vegan, vegetarian and gluten-free, making it suitable for most dietary requirements.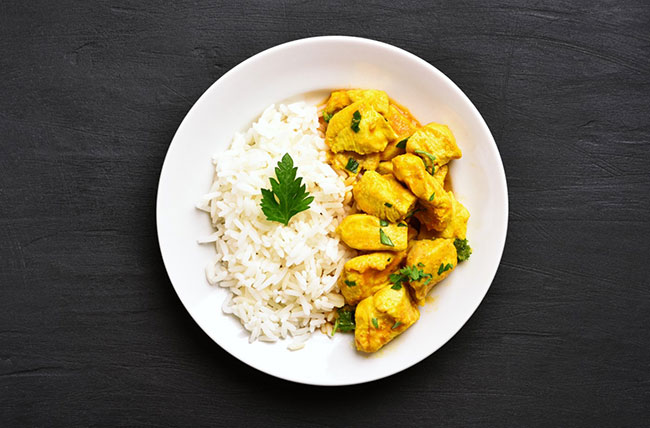 While you can cook rice using a simple saucepan on the stove, it is slower, requires more effort, more cleaning, and produces less consistent results.
This is where a Panasonic Rice Cooker shines! They are designed to cook fluffy rice with minimal effort, maximum consistency and easy clean up. Panasonic Rice Cookers also cater to other grain varieties such as quinoa and brown rice while offering a range of additional features such as steaming and slow cooking to expand your culinary capabilities.
Use our comparison chart to compare Panasonic Rice Cookers and help you decide which model is best suited for your household. Refer to the guide below for more information on each feature.
Compare Panasonic Rice Cookers
Advanced SR-DF Range
Premium SR-CN Range
Premium SR-CX108SST
Flagship SR-HL151
Product Image
Key Feature
Quick and Easy
Premium Rice For Busy Families
Superior Quality & Versatility
Induction Heat Technology
Capacity
5-Cup
SR-DF101WST
10-Cup
SR-DF181WST
5-Cup
SR-CN108WST
10-Cup
SR-CN188WST
5-Cup
8-Cup
Fuzzy Logic Technology
Yes
Yes
Yes
Yes
Menu Options
4
16
16
11
Rice Types
White Rice, Brown Rice, Sticky Rice
White Rice, Jasmine Rice, Brown Rice, Multi-Grain Rice, Sticky Rice, Quinoa
White Rice, Jasmine Rice, Brown Rice, Multi-Grain Rice, Sticky Rice, Quinoa
Reduced Starch, Enhanced Taste, White Rice, Long-grain Rice, Brown Rice, Multi-Grain Rice, Quinoa
Cooking Options
Quick Cook, Steam, Porridge, Soup
Quick Cook, Steam, Porridge, Soup, Clay Pot Rice, Slow Cook, Cake / Bread
Quick Cook, Steam, Porridge, Soup, Clay Pot Rice, Slow Cook, Cake / Bread
Quick Cook, Reheat/Steam, Congee/Soup, Cake
Easy Clean Lid & Steam Vent
-
Yes
Yes
Yes
Inner Pan
Non-Stick
Ultra Non-Stick 2.2mm 6-layer
Ultra Non-Stick 4.0mm 6-layer
Binchotan Charcoal Non-Stick 1.7-2mm 4-layer
Display
-
White LED
White LED
Red LED
Keep Warm
Yes
Yes
Yes
Yes
Delay Timer
-
Yes (Up to 24 hrs)
Yes (Up to 24 hrs)
Yes (Up to 24 hrs)
Alarm
-
Yes
Yes
Yes
Accessories
Rice Scoop, Measuring Cup, Steaming Basket
Rice Scoop, Porridge Scoop, Measuring Cup, Scoop Holder, Steaming basket
Rice Scoop, Porridge Scoop, Measuring Cup, Scoop Holder, Steaming basket
Rice Scoop, Porridge Scoop, Measuring Cup, Metal Steaming basket
Dimension (W x D x H) cm
5-Cup
24.5 x 33.9 x 19.9
10-Cup
24.5 x 33.9 x 24.7
5-Cup
24.5 x 34.9 x 20.9
10-Cup
27.4 x 38.4 x 24.6
5-Cup
24.5 x 34.9 x 21.2
8-Cup
27.2 x 33.4 x 22.8
Website Links
5-Cup SF-DF101WST
10-Cup SF-DF181WST
5-Cup SR-CN108WST
10-Cup SR-CN188WST
5-Cup SR-CX108SST
8-Cup SR-HL151
Panasonic Rice Cooker Review of Features
Capacity
The capacity of your rice cooker will determine how much rice you can cook in one batch. As a general rule, one cup (approx. 180ml) of uncooked white rice will yield about 2 cups of cooked rice which is generally enough to serve 1-3 people, depending on what you're pairing the rice with. The Panasonic range of Rice Cookers feature 5 and 10 cup varieties to cater for small or large families.
Fuzzy Logic Technology
Our Fuzzy Logic Technology is what ensures perfect, consistent results every time. The microcomputer inside each rice cooker constantly monitors temperature and cooking times to determine the precise moment your rice is ready. All Panasonic Rice Cookers come with Advanced Fuzzy Logic programming built in.
Menu Options
Panasonic Rice Cookers are equipped to do more than just make fluffy rice. Our entry level model features 4 convenient menu options to cook white rice, brown rice, porridge/soup or steam cooking. For more experienced home cooks, our advanced models feature 16 menu options which include being able to customise the texture of your rice (regular, soft, hard), cook alternative grains such as quinoa or multi-grain, and support cooking other items such as breads and cakes.
Rice Types
Panasonic Rice cookers support a variety of different grains to accommodate special dietary requirements. Our more advanced models can cook alternative grains such as brown rice, and quinoa, and even allow you to select the texture of your rice according to your personal preference. Our flagship HL151 Induction Heat Model also features a reduced starch mode, offering a healthier option without compromising on taste.
Cooking Options
More than just a Rice Cooker, all Panasonic models include a steam basket, making it easy to prepare dishes like fish, dim sums or steamed vegetables. Our advanced models can also make cakes and breads or double as a slow cooker for maximum creative versatility in the kitchen. Check out our Rice Cooker recipes on our recipe website – TheIdeasKitchen.com.au

Easy Clean Lid & Steam Vent
If you've cooked rice on the stove before you will be familiar with the unavoidable white starchy splatter that can coat the lid and your cooktop. The easy to clean lid on our premium models has a unique vent to eliminate splatter during cooking and a removable lid to make cleaning a breeze.
Inner Pan
The quality of the inner pan is an essential part of how our rice cookers can deliver consistently fluffy rice every time. All Panasonic Rice Cookers include durable, wear-resistant pans made from high-grade aluminium alloy for superior heat transmission. Our premium models are perfect for frequent usage, featuring a thicker inner pan for improved longevity and more effective thermal regulation for extra fluffy rice. Our SR-HL151 model takes fluffy rice to the next level thanks to its induction heating technology which cooks the rice thoroughly from the inside out.
Display
Panasonic's Premium Rice Cookers feature a LED Display that makes it intuitive to select your desired cooking function, set your delay timer and of course, view the remaining cooking time.
Keep Warm
The days of gluggy, overcooked rice, or cold hard rice that's been sitting on the stove for too long are over. The Keep Warm feature built into all Panasonic Rice Cookers will regulate the temperature and steam inside the unit for up to 5 hours to ensure steaming hot rice is available when you are ready to plate up.
Delay Timer
Want one less thing to worry about when you get home from work? Use the time delay function to defer starting the cooking process by up to 24 hours, allowing you to plan ahead to ensure your rice is ready at the perfect moment.
Alarm
The Panasonic Premium Rice Cooker models feature an alarm to politely let you know your perfectly cooked rice is ready. Now that you're up to speed with the features and benefits a Panasonic Rice Cooker can make to your household, check out our website to find out more product information or search for a stockist near you!
View the latest range of Panasonic Rice Cookers