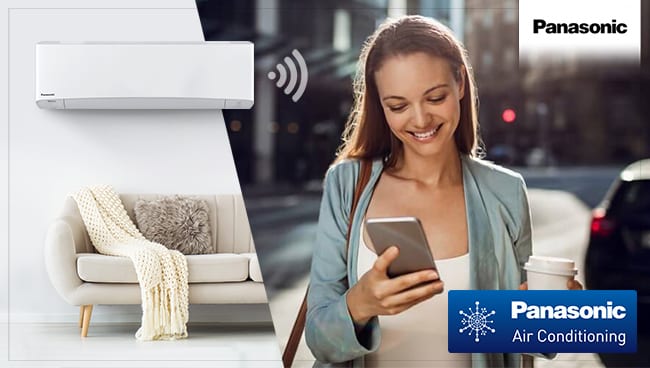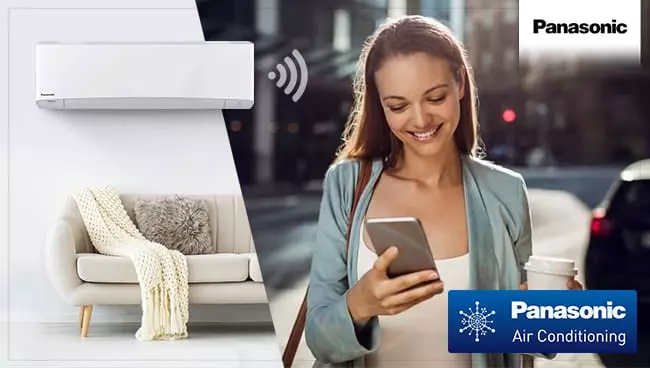 The power is in your hands with Panasonic's new WLAN Smart Adaptor & Comfort Cloud App to remotely control and monitor your air conditioning and its energy use.
WLAN SMART ADAPTOR
Panasonic introduces a smarter way to control your air conditioning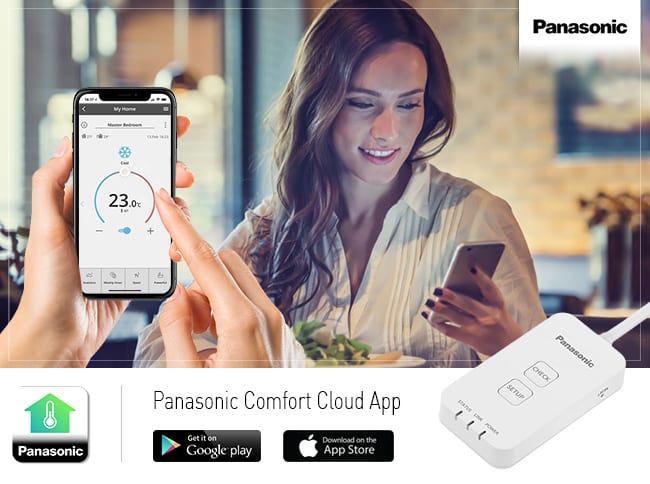 On a sweltering hot day, there's nothing better than knowing you'll soon be headed home to switch on your hard-working air conditioner. Well, almost nothing… imagine being able to take out your smartphone and set the perfect temperature at home before you've even walked in the door!
All you have to do to turn this dream into a reality is pair our WLAN Smart Adaptor & Comfort Cloud App with your Panasonic Aero Series air conditioner. Whether you're on the other side of the country or just the other side of the room, this smart combination makes it easy to turn your air con unit on or off, change modes, adjust temperatures, and set usage patterns which work best for your schedule. You can also monitor & analyse energy consumption, and effortlessly manage trouble shooting.
As temperatures and energy costs rise, there's never been a better time to give your air conditioning a smart upgrade that will keep you cool and save money on your electricity bills all at the same time.
READ MORE
Panasonic Air Conditioning WLAN Smart Adaptor & Comfort Cloud App
CONTROL & MONITOR
Panasonic Air Conditioning Comfort Cloud App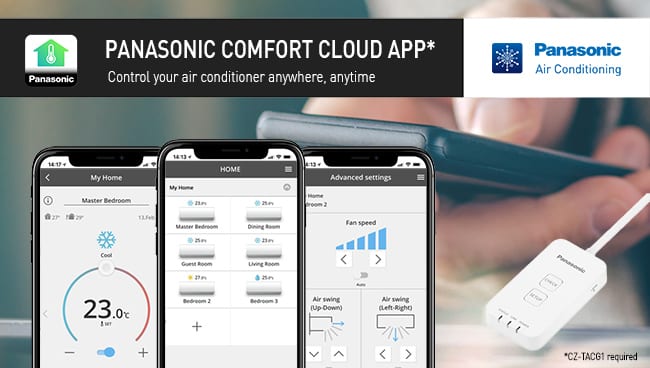 Our Comfort Cloud app lets you control and monitor your Panasonic air conditioning units from anywhere using your mobile device. You can adjust operating modes in an instant, analyse and compare energy consumption to improve energy efficiency, and easily identify air conditioners issues to simplify troubleshooting.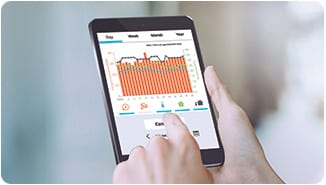 SMART Energy-Saving
• Analyse energy use based on different temp settings
• Compare day/week/month/year energy consumption
• Improve energy efficiency and electricity spending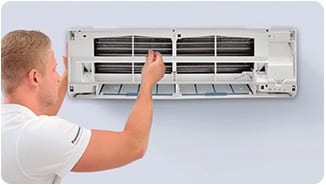 SMART Assist
• Check error codes for effortless troubleshooting
• Help technicians to easily identify the issues
• Allow multiple user and admin access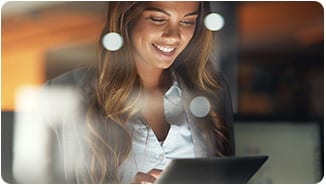 SMART Control
• Complete remote control of your air conditioning
• Adjust modes, temp settings, fan speed, air direction
• Group and manage up to 200 air conditioning units

MEASURE & CHOOSE
Panasonic Air Conditioning Sizing Wizard App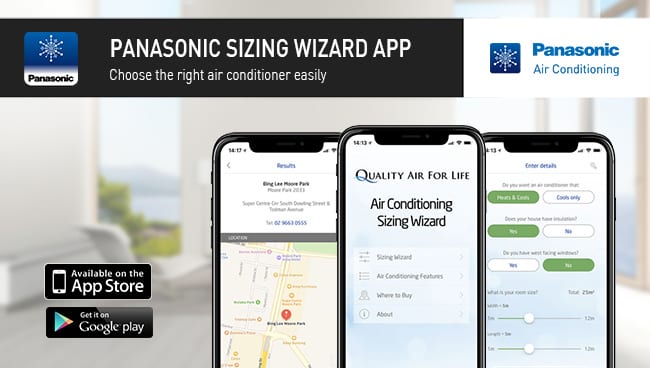 Not sure what air conditioning you need? This app can find your perfect match. Simply enter some basic details about your room size and environment and the app will return the model best suited to your needs. You also get access to product features, technology insights and dealer locations.
Not sure What Size Air Conditioner You Need?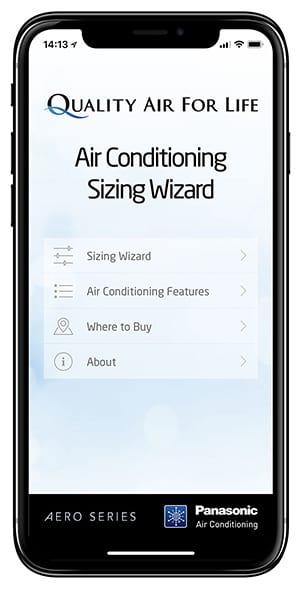 1. Use the Air Conditioning Sizing Wizard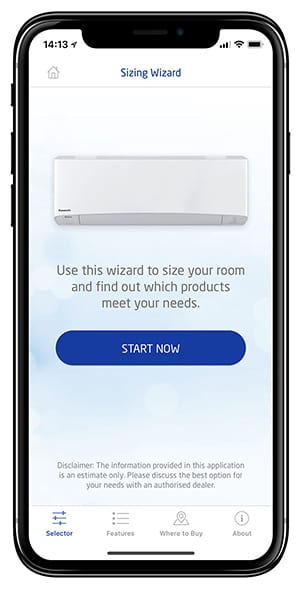 2. Enter some basic details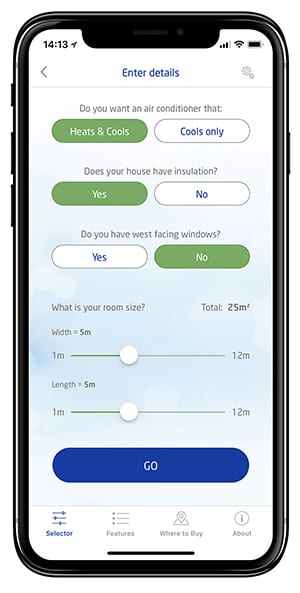 3. Find a recommended product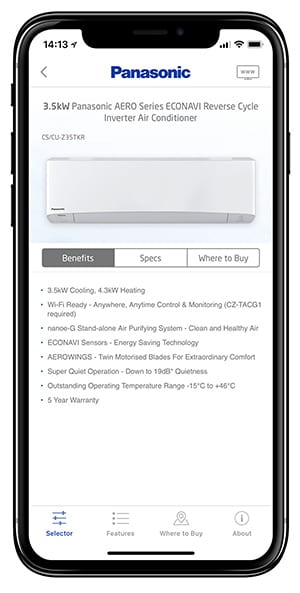 4. And find out where to buy!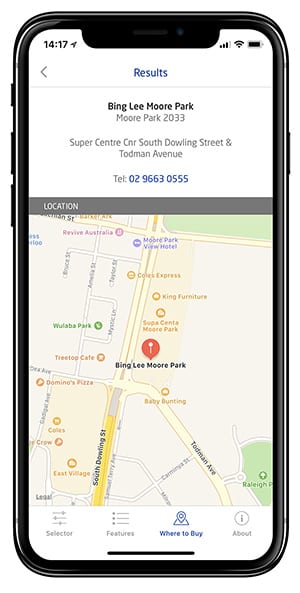 AIR QUALITY
Our stand-alone nanoe-G air purification system gives you quality air for life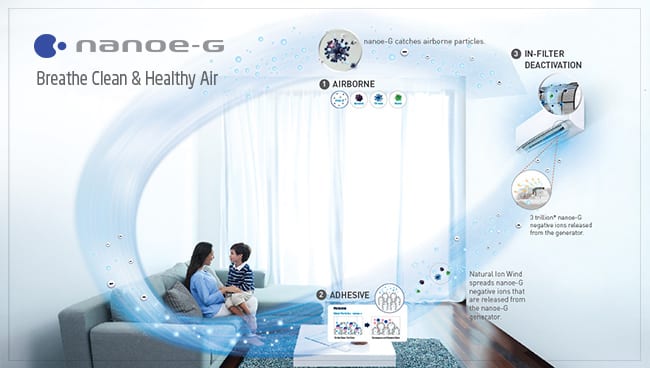 Panasonic air conditioners feature an advanced nanoe-G air purification system which releases active ions that attach to particles as small as PM2.5. This stand-alone system can be used independent of cooling/heating operation to remove and deactivate bacteria, viruses and mould in your home.
Airborne

nanoe-G removes up to 99% of particle pollution (PM2.5)*¹and airborne particles*² such as bacteria, viruses and mould.

Adhesive

nanoe-G catches and deactivates up to 99%*³ of bacteria and viruses on surfaces and deodorises adhesive odours.

Deactivates

nanoe-G automatically deactivates up to 99%*⁴ of bacteria and viruses trapped in the filter.

*1 PM2.5 Removal was certified by FCG Research Institute, Inc
*2 Airborne Removal was certified by Kitasato Research centre for Environmental Science
*3 Adhesive Deactivation was certified by Japan Food Research Laboratories
*4 In-Filter Deactivation was certified by Japan Food Research Laboratories
READ MORE
nanoe-G Stand-Alone Air Purification System
AERO SERIES
Smart comfort and control with Panasonic Aero Series air conditioning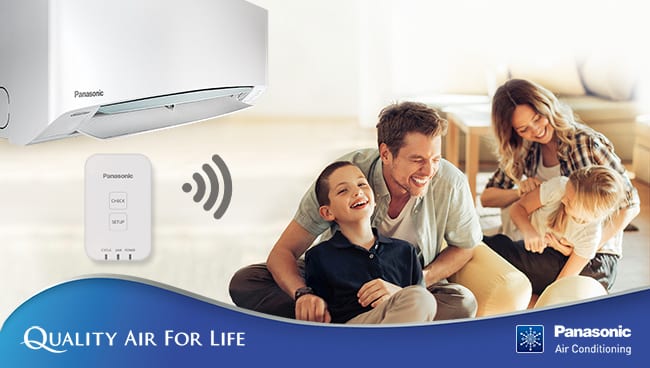 Enjoy the latest slim, stylish design in your home or apartment, with Panasonic's sleek Aero Series air conditioning. Pair our WLAN Smart Adaptor and Comfort Cloud App with the Aero Series for smart comfort, smart control and smart energy savings.
Panasonic Aero Series ECONAVI Reverse Cycle Inverter

Aero Series ECONAVI Reverse Cycle Air Conditioning
Panasonic Aero Series Reverse Cycle Inverter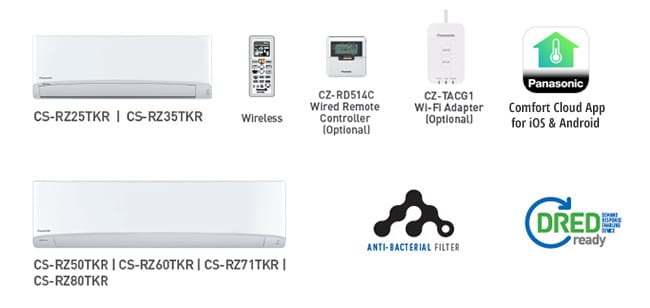 Aero Series Reverse Cycle Air Conditioning
Panasonic Aero Series Cooling Only Inverter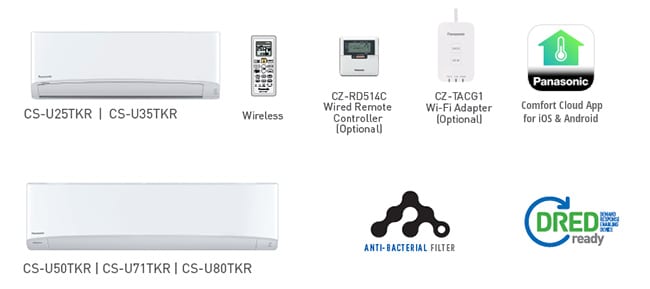 Aero Series Cooling Only Air Conditioning
FEATURED TECHNOLOGY
Panasonic Aero Series Air Conditioning
Cleaner air with nanoe-G*1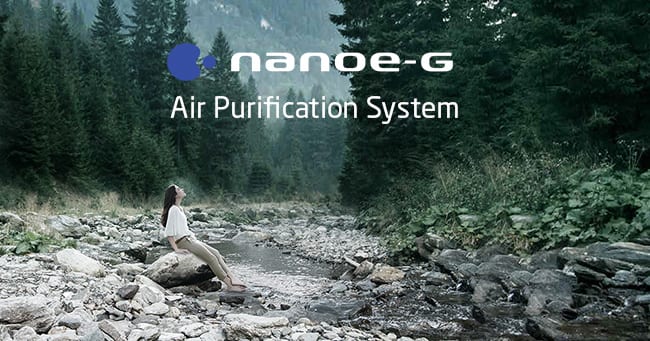 For those concerned about bacteria and allergens in the home, Panasonic's revolutionary nanoe-G air purifying feature enhances indoor air quality. nanoe-G eliminates micro-organisms – removing 99 percent of airborne bacteria, viruses and mould. It also catches and deactivates 99 percent of bacteria and viruses on surfaces and in the filter, resulting in a cleaner and healthier home. The air purifying feature works hand in hand with the Mild Dry Cooling function, which reduces the unwanted side-effects of air conditioning, such as dry skin and mouths, by maintaining the level of air moisture in the room.
Learn more
Chill out with Aerowings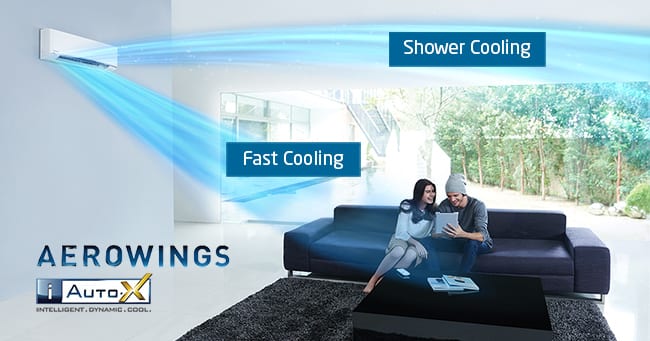 The Aerowings blades on the Panasonic Aero Series control the airflow to provide Shower Cooling, which directs cool air across the ceiling to shower down naturally, spreading over a wider area of a room and minimising any uncomfortable direct airflow chill. When Fast Cooling is required, the blades direct airflow downwards, delivering concentrated cool air the moment the air conditioner is switched on.
Learn more
Energy efficiency with ECONAVI*2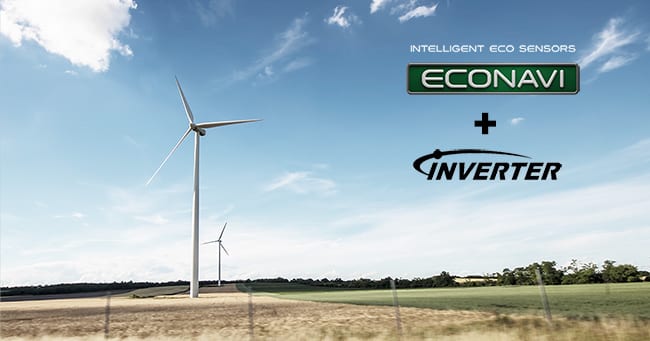 With all this talk of rising power prices, more Australians are looking at purchasing an energy efficient air conditioner. Panasonic is meeting consumer's needs with ECONAVI technology. Multiple intelligent sensors – including human activity, sunlight and temperature – automatically adapt heating and cooling power according to room conditions.
Learn more
Seasonal comfort with reverse-cycle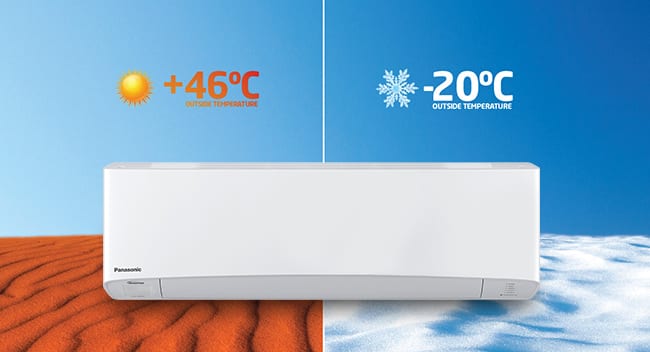 Panasonic ECONAVI reverse-cycle and standard reverse-cycle ranges offer up to 9.0kW heating and 8.0kW cooling, meaning Australian homes can stay comfortable all year round. Heating is designed to operate even when it's a freezing –15°C outside, with cooling effective up to a sweltering +46°C.
*1 Available on Panasonic Aero Series ECONAVI Reverse-Cycle Inverter (Z Series) models only
*2 Available on Panasonic Aero Series ECONAVI Reverse-Cycle Inverter (Z Series) models only
View Panasonic's latest Residential Air Conditioning range
View Panasonic's latest Commercial Air Conditioning range