Think your microwave is only good for cooking, reheating and defrosting? It's time to think again!
1. DIY a microwaveable "heat pack"
When muscle pains and aches strike, there is something so soothing about treating them with a heated pain pack heated in the microwave. You don't need to spend money on expensive commercial varieties, though as they are easy to make at home. Just take a microwaveable freezer bag, fill to ¾ with uncooked rice, seal and then microwave for one minute. If more heat is needed, shake turn over and microwave for another minute. Wrap in a small towel and apply to your painful muscles for relief.
*Note: do not leave pack unattended while heating.
2. Make like a restaurant pro and warm your plates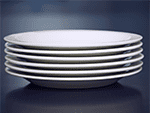 Restaurants warm the plates they serve your food on because it keeps their delicious dishes hot until they hit the table. You can easily bring this pro trick to your kitchen by spritzing your plates with a few drops of water, stacking them and them warming them in the microwave for a minute.
3. Enjoy a beauty parlour on the kitchen counter

Your microwave is a brilliant tool for pampering at home. You can use it to warm facemasks, hot oil treatments, mudpacks and of course, hair removing waxes. You can even use it to salvage old makeup items in a flash, such as dried mascara or hardened kohl crayons, which can be rescued by heating next to a cup of water for 30 seconds.
4. Sanitise stinky kitchen sponges in a flash

Stinky, dirty sponges are known to harbour germs and other nasties. Regularly replacing your sponges is obviously necessary but you can eke a little more life out of these items by soaking them in water with a little white vinegar and popping them in microwave for a minute. Be careful when removing, as the sponge will be hot and make sure not to microwave sponges with scourers attached as they may contain metal elements.
5. Microwaves can double duty as a bread bin

When you aren't using your microwave, it is the perfect place to store your bread. It's handy to the counter, and features a large interior space that is just the right size for a loaf (or two of bread). What's more, because the microwave is airtight when the door is closed, it will keep your bread fresh nice and fresh.
Check out our full range of microwaves.