Already boasting the largest range of Blu-ray players and recorders on the market today, Panasonic's offering expands even further with a quartet of 4K Ultra HD Blu-ray players that feature an upgraded HCX (Hollywood Cinema Experience) processor with the latest chipset for a thrilling home entertainment experience. The new range, all Ultra HD Premium certified, takes in the entry-level DP-UB320, the DP-UB420 with HDR10+ support, and the enthusiast DP-UB820 and premium DP-UB9000 which incorporate both HDR10+ and Dolby Vision.
NEW: Reference-class UB9000 4K UHD Blu-ray Player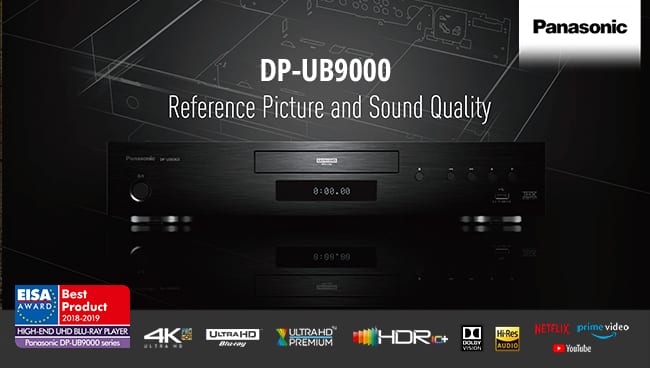 Our much-anticipated premium UB9000 4K Ultra HD Blu-ray player (available in Australia in November) is the benchmark in Blu-ray home entertainment for the discerning enthusiast. HDR10+ and Dolby Vision technology deliver outstanding picture quality, while THX® certification replicates the finely nuanced colours and rich, detailed images required to precisely reproduce the filmmaker's intentions. The UB9000 is highly engineered for unparalleled sound with a dedicated audio power supply and a vibration-reducing chassis.
DP-UB9000 4K UHD Blu-ray Player
A powerful processor for stunning picture quality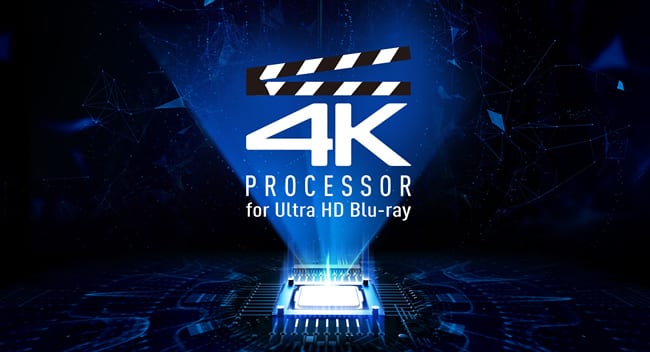 The 4K engine powering the line-up is Panasonic's proprietary HCX (Hollywood Cinema Experience) processor for Ultra HD Blu-ray. This has been improved by applying unique chroma and gradation processing to the video technologies which were developed at the Panasonic Hollywood Laboratory (PHL), the R&D facility for enhancing Blu-ray picture quality. Launched last year, the HCX Processor reproduces Ultra HD Blu-ray and internet-streamed 4K video images with stunningly precise colours and optimal brightness.
Taking HDR (High Dynamic Range) to the max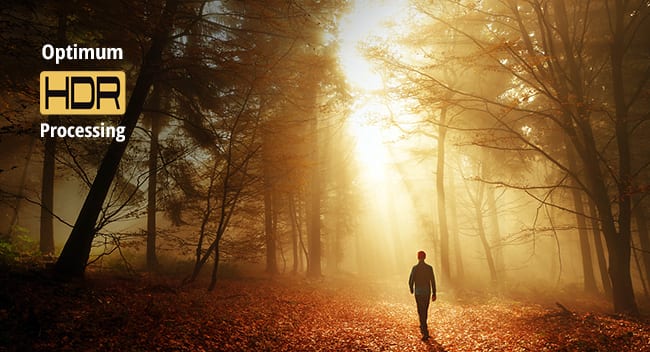 Three of the new Panasonic Ultra HD Blu-ray players (the UB420, UB820 and UB9000) support open, royalty-free HDR10+ dynamic metadata technology to optimise the viewing experience on a scene-by-scene basis, and the the UB820 and UB9000 also support Dolby Vision™. What's more, Panasonic's original image processing technologies achieve HDR images with higher definition. Tone mapping is used to adjust the brightness level of the content. And even HDR images from ordinary HDR10 and TV footage, which do not support special new formats like HDR10+ and Dolby Vision, provide optimal playback.
Designed for high-resolution audio production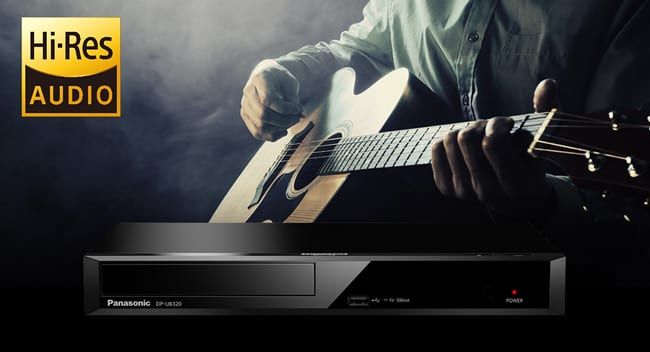 The UB820 and UB9000 support analogue 7.1-channel audio, providing direct connection to a home theatre system for lifelike surround sound. All models provide excellent audio to match the viewing experience, switching off unnecessary circuits (like the HDMI or coaxial output) to reduce noise and enhance performance, and the the UB420, UB820 and UB9000 players even feature dual HDMI outputs for isolating and transmitting TV (4K video) and amplifier audio.
Stream exceptional 4K online video content
Demand for 4K content continues to expand, so naturally our 4K Ultra HD Blu-ray models support 4K VOD (Video on Demand) services to deliver an exceptional experience for discerning viewers who demand the very best quality in picture and sound. Built-in Wi-Fi and access to a wide range of internet apps simplifies streaming, and the UB420, UB820 and UB9000 models will support voice control from Amazon Alexa and Google Assistant.
DP-UB9000 4K Ultra HD Blu-ray player
DP-UB820 4K Ultra HD Blu-ray player
DP-UB420 4K Ultra HD Blu-ray player
DP-UB320 4K Ultra HD Blu-ray player