On the cusp of the Rio 2016 Olympic Games, we are looking back into our 28-year history as an Official Worldwide Olympic Partner. Today we flash back to the Sydney 2000 Olympic Games. The last Olympic Games of the 20th century, Sydney 2000 was broadcast in 220 countries, delivering unforgettable memories of the Olympic Games that heralded the advent of a new century.
Panasonic technology at
Sydney 2000 Olympic Games
Broadcasting Equipment

Panasonic was again responsible for the design, construction and maintenance of IBC (International Broadcast Centre)'s fully-digital broadcasting system during the Sydney 2000 Olympic Games. The system, which the build-out took two years to complete, broadcasted the events of the Games clearly to the world.
ASTROVISION Large-Screen Display System

Panasonic installed two large ASTROVISION screens in the main Sydney 2000 stadium, "Stadium Australia," the largest Olympic stadium in history. ASTROVISION screens were also installed at the live sites around Sydney, to transmit the excitement and passion of the Games outside the stadium.
RAMSA Professional Audio System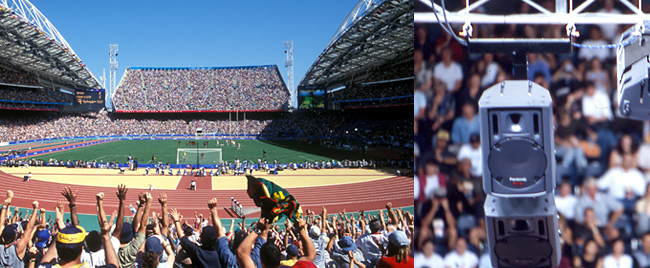 RAMSA sound systems were fitted in the 34 stadiums of the Sydney Olympic Games. Compared to past Games such as Atlanta 1996 and Nagano 1998 for which Panasonic also provided solutions, the scale of involvement at the Sydney Games greatly increased. At Sydney, Panasonic's newest model, the digital audio mixer WR-DA7, found great success in its high functionality and compactness.
Panasonic technology supports Rio 2016 Olympic Games

Panasonic plays a major role in the Rio 2016 Olympic and Paralympic Games, in our capacity as both an Official Ceremony Partner – a first for Panasonic – and as the Official Worldwide Olympic Partner in the Audio and Visual Equipment category.
READ MORE
Panasonic tech shines at Rio 2016 Olympics.
---
Contact us
Contact us for more information on Panasonic Business products:.