Let's take a tour of 'The Stadium of Wonders', Panasonic's technology showcase designed to help visitors create their own Olympic magic moments during the Rio 2016 Olympic season. Located in Rio de Janeiro's Sugarloaf Mountain, a registered World Heritage site, the pavilion offers exhibits created with Panasonic's proprietary Space Player, transparent screens, projectors and new Light ID technology.
History Tunnel – Panasonic Space Player
Visitors can walk through the history of the Olympic Games and a enjoy visual presentation of Panasonic's long and proud history of supporting the Olympic Games.
Main Theatre – Panasonic 4K+ 3-Chip DLP™ Projector
Visitors can watch the excitement of the Olympics Games and a wide variety of Olympic-related images presented in stunning 4K definition.
Go for Goal – Take the Paralympic Challenge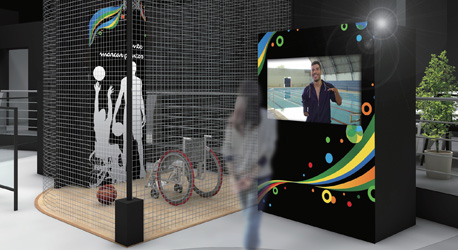 Wheelchair basketball is a sport that mainly uses the upper body. Visitors are invited to shoot free throws to experience for themselves the tremendous strength and agility required.
Make your Dream Fita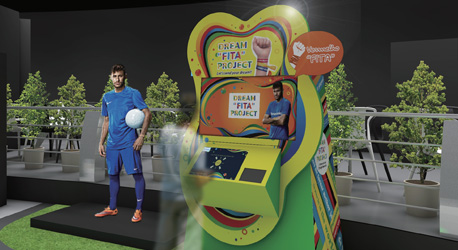 A FITA is a good luck charm originated in Brazil. Visitors can print out their own FITA containing their personal wish.
Snap a Unique Rio 2016 Memory – Panasonic Space Player
Visitors can take a commemorative photo with Vinicius, the official mascot of the Rio 2016 Olympic Games, who appears on screen.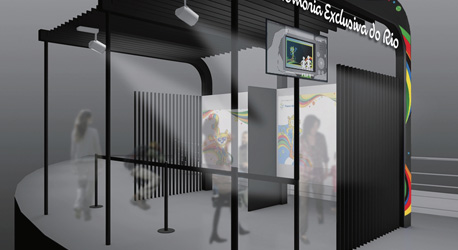 Amazing Athletes, Exceptional Records – Panasonic Transparent Screen
Visitors can discover what it takes to be a record breaker as icons of various Olympic competitions are displayed on a transparent screen, along with images reflecting the record-breaking performances of select champions.
Explore the Rio 2016 Olympic Torch Relay – Panasonic Light ID
The magic of Light ID technology lets visitors discover the route taken by the Rio 2016 Olympic Torch Relay, and a host of interesting facts and information about the Relay.
WATCH | The Showcase in Sugarloaf 360° Movie
Official Worldwide Olympic Partner

Panasonic is proud to support the Olympic Movement – aimed at promoting world peace through sports – as an Official Worldwide Olympic Partner in the Audio and Visual Equipment category for more than 25 years since The Olympic Partner (TOP) Program commenced for the Calgary Olympic Winter Games in 1988. Under the slogan of "Sharing the Passion," Panasonic will contribute to the success of the Olympic Games through its technology. Panasonic has already contracted the partnership with the International Olympic Committee through to the 2024 Olympic Games.
---
Contact us
Contact us for more information on Panasonic Business products:.