Enjoy perfect results with Panasonic's new Fuzzy Logic Rice Cookers
February 20th, 2013
Uncategorized
Preparing perfect meals in the kitchen doesn't have to be out of reach, even for the casual cook. Panasonic technology makes preparing delicious, simple meals a breeze. Our new, easy-to-use Fuzzy Logic Rice Cookers will empower cooks of all abilities to feel like a gourmet chef in the kitchen thanks to Fuzzy Logic technology which precisely adjusts the temperature and cooking results.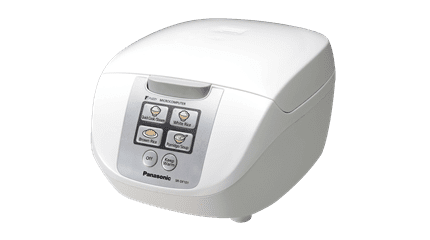 In the new 1.8L SR-DF181WST and 1.0L SR-DF101WST DF Series Rice Cookers, the advanced Fuzzy Logic technology does all the thinking for you by controlling cooking temperatures based on the amount of rice and water for perfectly cooked rice every time.
A steam basket gives you the flexibility and convenience to cook different meals simultaneously, while different cooking modes, including a Quick Cook mode for time-poor users, offer the ease of use that you'll love at meal times.
The rice cookers, however, cook more than just perfect rice. Soups, porridges, dumplings, healthy steamed vegetables and fish are all on the menu as well, so you can cook a range of delicious meals using the one appliance for even greater convenience.
Lightweight, compact, stylish and very easy to clean, the 1.8L SR-DF181WST and 1.0L SR-DF101WST DF Series Rice Cookers are a smart investment in any contemporary kitchen and will make your kitchen a popular place at mealtimes.
Find out more about SR-DF181WST here.
Find out more about SR-DF101WST here.
3 Comments on this article