Students from Sydney's Cromer Public School have begun weekly joint lessons with their classroom counterparts at Kansai University Elementary School in Osaka, Japan, as part of a three year distance learning program.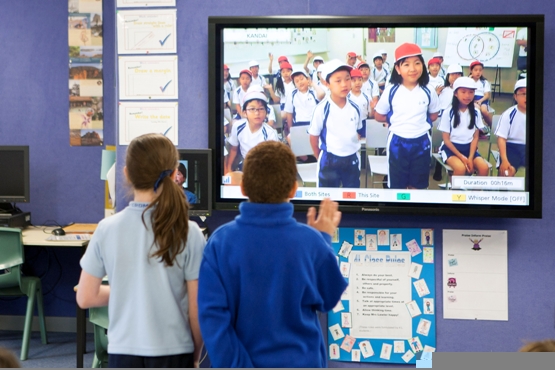 The Grade Four students have been enjoying language and culture lessons using tools such as High-Definition Video Conferencing and Interactive Whiteboards for a two-way, engaging educational experience.
"We are very excited to see our education technology solutions coming to life in the classroom and provide an authentic and interactive learning environment for students. With the High Definition Video Conferencing system, the students are able to communicate with each other clearly and without the delay often associated with such systems – it really brings the students closer and forges a greater understanding of different cultures that they may not otherwise have had the opportunity to experience."
David Cuckney, Group Manager – AVIT – Panasonic Australia
The Global Classroom partnership is the first of its kind and is a joint initiative between Kansai University and the global Panasonic Education Foundation. The Cromer classroom was developed with Panasonic donating products and offering installation and support for the classrooms in both Australia and Japan.
For a full outline of Panasonic's Video Conferencing and Interactive Whiteboard offerings, click here.